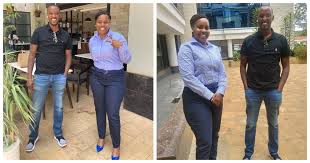 The former citizen and ntv news anchors were spotted hanging around each other earlier today.
This was after they shared pictures of themselves together on Jane Ngoiri's twitter page. The caption which left fans question themselves whether the two were working on something together.
Jane left Ntv after working for the media house a period close to ten years while Mohammed resigned from citizen hence leaving a huge gap where top interviews with key personnels are concerned.
Fans asked if they were planning to make a comeback or maybe they were anticipating to work for international media outlets. But from the look of things they seemed to be working on something, Since she posted this:
When exs meet yaani Ex-English and Ex-kiswahili...... kuna jambo.
For more news and inspirational articles please subscribe to my page and follow me on my facebook, twitter and instagram.You will never miss for you shall stay updated.
Content created and supplied by: odeh_adenureh. (via Opera News )