Gengeton became famous after the release of 'Lamba Lolo' by Ethic group. Gengeton was at it's peak between 2018-2019 , at this time any gengeton music released was getting a lot of views in almost every streaming platform. we even saw more established singers and artist in Kenya do a collabaration with the gengeton artists e.g Otile brown and Ethic.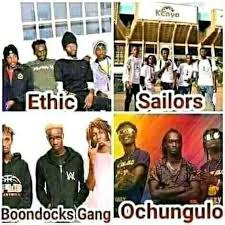 A lot of Kenyans were happy because finally we had identified our sound like Tanzania has bongo flavour. Finding our sound as Kenyans was a big deal because it finally meant we were getting the respect we deserve from other African countries.
Gengeton was even recognized by dancehall artist Konshens who did a remix of Ethic song 'Pandana'. But now people seem to have lost interest in the music genre because of the following reasons:
1. Most gengeton artist lack content in their music , that is, they mostly sing about drugs, partying, women and sex.
2. Some of the gengeton artists use vulgar and abusive language leading ti their songs bieng banned for example 'Tarimbo' by Ethic group.
3. Gengeton artists use very hard sheng words which is very hard for some Kenyans to understand also this is why gengeton never did well in our neighbouring countries.
4. Most kenyans believe that gengeton artist sang the same song over and over again with changed beats and a little changed words.
5. Most gengeton artists don't get high end gigs, they only get small gigs which they end up getting paid less.
6. Most gengeton artists don't invest in their music , i.e, the video quality are always very low and their fashion isn't that good either.
Content created and supplied by: Batvic (via Opera News )