Politician-cum businessman Alinur Mohamed commonly known as 'Somali bae' has broken the bank to reward former Tahidi High actor Omosh with goodies, starting from cash to shopping.
Alinur Mohamed was moved when Omosh's heartbreaking story went viral on social media.
On Tuesday, he joined median personality-cum comedian Jalnag'o alias Jalas to gift the ex-Tahidi High actor.
Alinur Mohamed gave the actor an amount of money totalling Sh60,000. He then added a huge shopping, starting from bags of sugar, bags of rice, milk, margarine, and many other stuffs.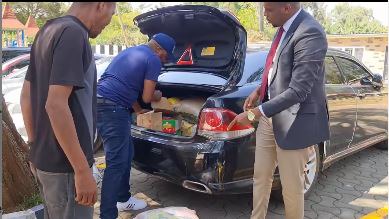 Taking to social media, Jalas thanked Alinur Mohamed for his kind gesture towards Omosh.
Kenyans Reactions
Kenyans have taken to social media to share mixed reactions, with a majority of them praising the two, Jalas and Alinur Mohamed for their kindness.
See what they said on Instagram:
cantonafadhera: He deserve it all..omosh made us happy back in the days tukiwa watoi...
c_khasinah: This is beautiful I'm tearing up
gavi_photography254: 😂😂😂ntalia kwa show ya nani ata mimi nichangiwe jameni, ntalia kwa show ya nani @jalangoo niite huko nilie bwana
alexisonde: @jalangoo I admire you so much jah bless you inspire me always leo live ilikua 🔥🔥🔥
mwangangicarol: Enough respect for @honalinur may Allah keep blessing you... such act of kindness.
Watch the video here.
Content created and supplied by: WikiLeaksKE (via Opera News )