Benga was a beloved genre by kenyans due to its authentic guitarist sounds and instruments used in different Kenyan cultures.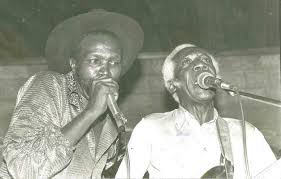 Nairobi attracted a lot of musicians at the time and this led to blooming of Kenyan legends celebrated to date.Here are some of the iconic figures of that time.
1.Daudi Kabaka.
The Kenyan music icon passed away in 2001 but had already set a footprint in kenyan music.He gifted Kenya with magical tunes such as Msichana wa elimu,Pole Musa ,Bachelor boy and Harambee Harambee.
2.Les Wanyikas.
The music band which is a subset of Simba Wanyikas recorded some of the most beautiful Kenyan songs loved to date.The main style of their songs was Benga.The band members include Omar Shabani,Tom Malanga,John Ngereza and Issa Juma.Their most succesful songs include Amigo,Sina Makosa,Barua yako.
3.Fadhili William.
The music legend is mostly known for his hit song 'Malaika' which means angel.Born in Taita Taveta he fell in love with a girl but because he was unable to pay the bride price she was given away to an old man so he composed the song to console her.
4.Mushrooms.
The band composed songs together of different genres and were succusful in their career.Their hit songs include Jambo Bwana which become popular as 'Hakuna Matata'.
Thank you for reading my article please share and leave a comment.
Content created and supplied by: JobOtworiblue (via Opera News )