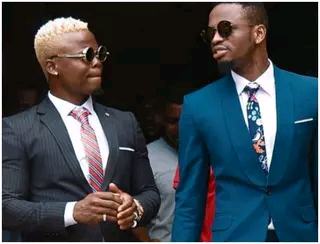 Harmonize's beef with Diamond Platnumz won't be an obstacle for him working on a new collaboration with the Wasafi boss.
Konde Boy expressed willingness to work with his former boss during a recent radio interview. He was asked whether he could work with Diamond and he said yes.
"Why not, we can do it. It's just music and we are Tanzanian artists," Harmonize replied.
Harmonize's comment only came days after Diamond expressed reservations on working with Konde Boy during an interview on Wasafi FM.
Diamond categorically stated that he was not yet ready to forgive and forget his differences with Harmonize because he is not sincere.
Harmonize also accused Diamond of being disrespectful and full of self-love during the recent radio interview.
"He sees others as insignificant to him and don't listen to advice and sees himself as always correct and sees himself as too rich to be criticized," said Harmonize.
Content created and supplied by: Kevins01 (via Opera News )