Mwalimu Sacco is a saving and credit cooperative society in kenya.
It is composed of staff of teachers service commission, TSC secondary teachers and tertiary teachers and teachers in elementary schools.
The shares of stock of Mwalimu Sacco are privately owned.
Mwalimu Sacco is among the Saccos who normally gives dividends to their members early and at a higher percentage.
Last year members were given dividends early and at 10 .2 % of their savings which was higher compared to others.
This year for there has been a delay on their dividends .
Here are some of the reason they gave for the delay.
1.ADM 2021has to be physically since huge number of officials the cannot be supported by the digital as in papporting members postulations.
2. During ADMs elections are done manually.
3. Policy /decision making are to be discussed in regards to interest on dividends.
4. Most teachers are delighted and principals are officials too and meeting can only be held as from 15-19 March as per school closing calendar.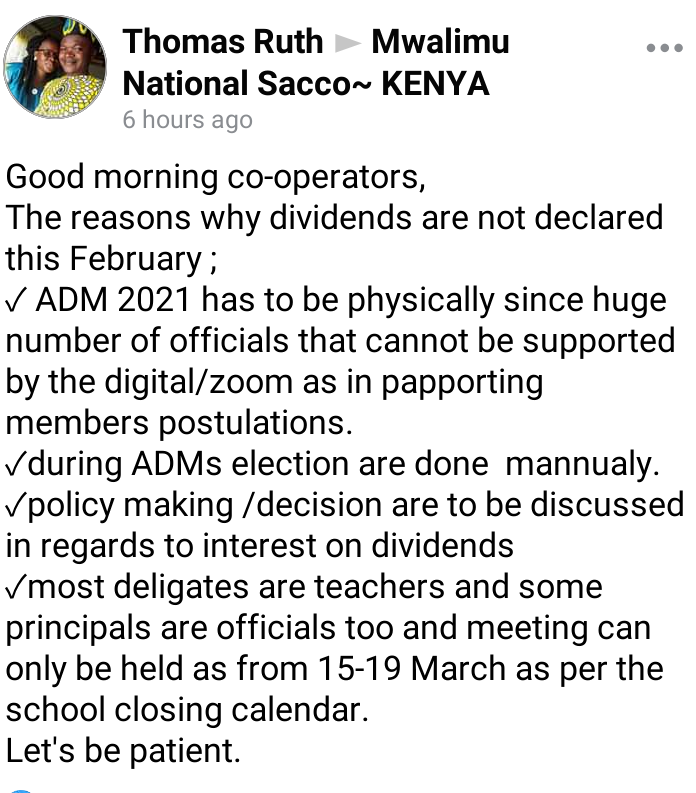 Content created and supplied by: Mercychirchirjela (via Opera News )