The Teacher Service Commission is an independent Commission mandated by the Kenyan Constitution to handle the affairs of teachers. TSC has undergone robust changes since 2015 when the new CEO Dr. Nancy Macharia took over. In 2017, the teacher employer with the teacher's unions, Knut and Kuppet signed for the CBA that comes to an end July this year,CBA 2917-2021.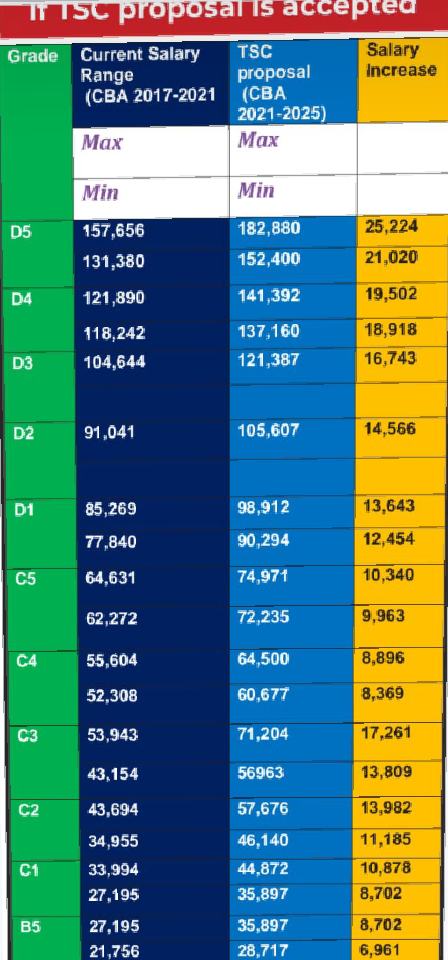 From the old CBA, the administrators got the larger share at the expense of classroom teacher. Teacher at job gruop D5 had a minimum of sh.131,380 to a maximum of sh.157,656 an increase of sh.21,020.
The lowest teacher at B5 had a minimum of sh.21,756 to a maximum of sh.27,195 translating to an increase of sh.6,961.
The deputy headteacher of primary schools at job gruop C4 was paid more than graduate classroom teacher at job group C3 as in the table above.
Having realised the anomalies, TSC has already prepared the new CBA 2021-2025 which it presented to the SRC.
The talks with the Teachers' union Kuppet is ongoing. Should SRC adopt the TSC proposal,a graduated classroom teacher at job group C3 will get a high basic pay compared to deputy headteacher of primary school. TSC advocates that classroom teacher to receive additional 32% in phases while administrators to get 16% basic increament.
Should the proposal be adopted, classroom teachers will smile all the way to the bank as they are the target gruop in the new CBA that is to be implimented starting July this year.
Content created and supplied by: @chibupress (via Opera News )