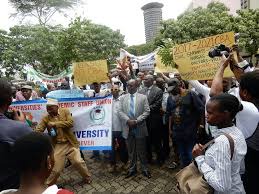 Kenyans are still struggling with the realities brought about by the Covid 19 pandemic in the country.The joblessness among majority of the citizens cannot be forgotten that soon.The deaths and stigma caused to some families by the virus is still fresh in the people's minds.Majority of the deaths were witnessed in October through to November.These became the most torturous months.
The government seems not to be doing enough to the jobless youths.Currently,afew government departments are the ones that are trying to provide jobs for the graduate youths.Teachers have been in the forefront in securing jobs.Currently,the National Police Service and The KDF have announced some over 5000 recruitment slots.Other departments are doing little about this.The counties too have been quiet on employments due to the biting cash crunches.
The parents are yet to feel the pain after the government resolving to increase the university fees from ksh 16,000 upto ksh 48,000.This means that the parents will dig dip into their pockets since the HELB loans given to students will not be enough.As these bites continue,it is emerging that thousands of the non-teaching university staffs will lose their jobs.This is due to the financial constraints that these institutions are in.If the move becomes a reality,what next for these employees?Where will they secure such jobs again?
Content created and supplied by: Moz1 (via Opera News )