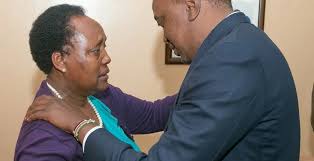 ( Helen is consoled by president Uhuru)
Helen Nkaissery is a woman who has beaten all odds to be the person she is today. She is a Maasai woman who has been largely successful in her own right having accomplished academic success and beating all the culture hindrances.
Helen was the first girl in her village to go to school with her father being a colonial chief in post independence Kenya. She is however a woman determined at the price and sees the sky as the limit in her endeavours.
Helen did not only become the only learned girl in her village but as well choose a course that's extremely feared not only by girls but men as well. She trained as a teacher in Physics and Mathematics at Kenya Science Teachers college after excelling in her high school studies at Tumutumu girls.
Helen taught at Kericho tea school for fourteen years before enjoining her husband who wanted to be a politician in 2002. She heavily compaigned for him and fortunately he won the seat becoming a legislator.
Helen married Nkaissery in 1981 while he was still a trainer at Ilmanet. Their marriage was blessed with four children Andrew, Soila, Memunta and Beatrice. She has taken her children as her everything and always worked hard to ensure they achieved their dreams.
Helen started a dairy women cooperative society in 2002 that boasts of more than 4000 members. It's for empowerment and and credit and has been largely successful. She is has also been at the forefront fighting FGM for girls affirming that a woman can still be complete without going through FGM. She has largely been successful in this noble Compaign.
Content created and supplied by: Onestrong (via Opera News )