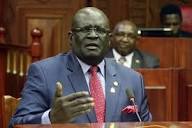 Education CS Professor George Magoha in a past function
The wave of students Unrest that has swept through Schools in the recent past has left stakeholders scratching their heads as they look for solutions.
When schools were opening, all stakeholders were only worried of corona infections given the social Distancing challenge posed by inadequate facilities in most learning institutions.
However, there was another pandemic of truant students that was lurking which nobody ever imagined of. Several Schools have been burned, teachers injured and one student is facing murder Charges.
It's for this reason that the gorvenment is Keen on having Principals sleep in schools so that they can directly be incharge of discipline of students. This is according to Taifa Leo daily publication.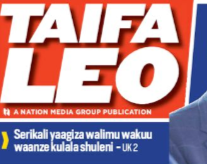 Principals who don't spend in Schools leaving the students alone with some few teachers have been put on notice.
This is likely to add more Trouble to Principals as the government is also planning to send financial mangers to schools, so that they (principals) can concentrate on teachers and students discipline and curriculum Implemention.
In an ammendment bill that is before parliament, principals may end up losing the significant roles they play in school's financial management.
The move has already been resisted by unions like kuppet who are arguing that the money to hire fincial managers can be used instead to hire teachers and adress the shortage.
Principals on their side feel that bursers can be trained and handle financial issues instead of again hiring new mangers.
The move may bring to Schools two centers of power and bring confusion. However, it may Help in curbing corruption because a number of the principals are corrupt in theur dealings.
It now remains to be seen whether parliament will relieve principals financial management roles so that they can concentrate fully on discipline and curriculum Implemention.
Do you think by principals staying in schools learners will stop causing strikes? Feel free to share your thoughts and comments on this on our comments platform.
Content created and supplied by: @yokeabu (via Opera News )