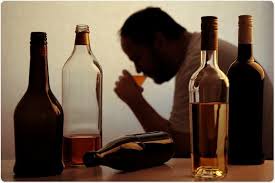 Higher levels of education come with a lot of freedom now that the students are out of their parent's wing. Students these days spend most of their time in other activities eg side hustles, parting, and other unaccountable activities instead of directing the same energy in their studies.
 The environment in the universities is different from what they were used to in secondary school. At universities, students are expected to manage their time and lifestyles by themselves unlike in high school where they were being pushed by either their parents or teachers, in return the students find a lot of free time to engage in other activities like parting or clubbing. Before one notices he/she is already addicted.
On-campus just like what we normally see in movies, drugs are everywhere. Easy availability of alcohol and other substances is tempting especially when students are under stress. With as little as Ksh 100, a student can acquire alcohol from any local retail bar. Attempt to quit if futile because the students find themselves in that same environment where they can easily acquire the substances at a cheap price.
Peer pressure among our youths is the biggest killer among our youth these days .At this level student feel like adults and as usual they want to try adult stuff for example taking alcohol. And because they have ownership of an identity card they can easily acquire alcoholic drinks.
Fear to talk to counselors. We are Africans and visiting the counselor is not in our blood, we would rather go the barber shop and discuss our problems there. That phobia to come out and talk to someone is what put ass even down as humans. Students tend to be afraid to talk and someone for help .This makes most of them remain with their addiction problem and never come out.
Lastly is what we all know, bad company .This goes without saying. Having friends that party and drink, you will definitely be a victim of the same.
Content created and supplied by: Brian906_ke (via Opera News )