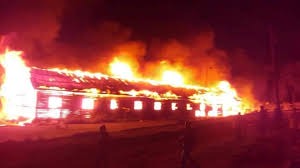 After facing a deadly pandemic of coronavirus aka covid-19 that resulted to students not attending to classes or School for those who were able to attend an online learning but was less efficient to those in local regions, but again as a country we are now experiencing a deadly problem of schools being burnt down buy known and unknown reasons
The issue of burning dormitories in Kenyan schools has become a major disturbing phenomenon in Kenya. More than 10 schools have been burnt in the year 2021 without knowing the facts or the reason behind the burning of the schools. Despite the fact that the minister of education CS Magoha declaring the closing of the schools as a result of burning ,Still the condition is worsening day in day out.
As we all know for something to happen there must be a reason or some hindering factors that can cause student to burn the dorms or even the whole school distance these are some factors that may lead to student to burn the dorm or all School,the following are the reason or factors- include;
1. peer pressure
Most high school students are in the age of teenager and the likelihood of most teenagers they have peer pressure that is they copy what other students from other schools they do if they hear a certain school has been burned also they also copy what are the other schools have done.
2. Their needs is not met
People generally they have this behaviour may be in workplace,be it in schools when their needs aren't met they tend to react to violence as a way to express their feelings so when student need something they may behave or react to banning of school as a way of expressing what they want either there wants or their needs.
√There needs may include:
•Poor hygiene
•Insufficient water
•Poor learning environment among others ~
3.They want to Go home
Rebellious students when they want to go on the main plot for a strike or do something that may lead to the closing of the school so when they want to go home they many even destroy school so that they go home as a result of burning the school that may affect their learning environment or affect other students unfavorably.
4. Accident
We may also say school burn as a result of accident maybe in the laboratory or something from the kitchen so this factor may be considered as one of the reasons why schools burn.
Content created and supplied by: Vinleestan (via Opera News )