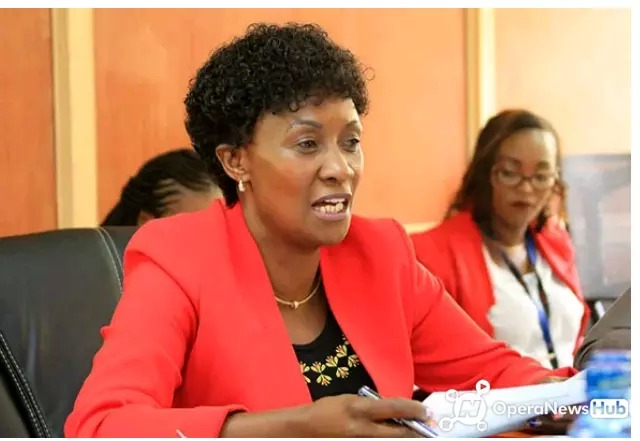 TSC CEO Nancy Macharia in a past function.
Teachers are going to play a key role in the succeeful rollout of CBC. Apart from imparting knowledge and skills, tutors will have another added responsibility of moulding behavior of learners.
Learners who would have behaved in a manner consistent with set norms and acceptable values will be awarded marks that will constitute the 60% internal assessment.
Its for this reason that all teachers employed by teachers service Commission are set to undergo training meant to equip them for effective Implementation of CBC.
The commission has been training a few teachers in the recent past since the curriculum was launched.
The first group of learners under CBC is now in grade four and they will join junior secondary school in 2023 while in 2029 , they will join tertiary institutions.
According to the CBC task force report, the government has to construct more classes in secondary schools before 2023 to allow for smooth transition. Universities and TVETs to be expanded to host various CBC pathways. Below are other recommendations.
* On staff management, the report projects that from May this year, teachers's employer teachers service Commission should prepare it's projection of teachers' needs under CBC program.
* All teachers will also be e expected to start continuous training inorder for them to be aligned with CBC.
* The report also recommended that the mandate of centre for Mathematics and technology in east Africa (CEMSTEA) should be expanded to provide in-service training for teachers to science, technology and engineering and mathematics.
* Training of all trainers in TVET level on pedagogical skills and Relevant content on CBC should be over by 2023.
* Review of minimum standards for TVET Trainers to include compulsory industrial attachement should have also been done by 2023.
* Kenya technical training college KTTC should have been strengthened to provide trainers for the TVET Sector within the same period.
* Entry grade to teachers training college should also have been increased to C.
* All university academic staff should be trained by December 2023 on CBC.
This is happening at a time when TSC is also planning to introduce TPD training modules to adress the gaps in TPAD.
Teachers therefore should brace themselves for many learning days ahead as 8-4-4 dies slowly in a few Year's time.
Do you support the new system of education? Feel free to share your thoughts and comments on this on our comments platform.
Content created and supplied by: @yokeabu (via Opera News )