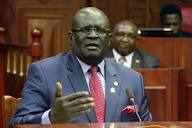 Education CS Professor George Magoha in a past function
Students Unrest has become a big problem in the recent past among the boarding Schools Countrywide in a development that has shocked all stakeholders.
Over 25 Schools have been burnt so far since the full resumption of learning in January 4 this year.
Anumber of education stakeholders have been forced back to the drawing board to come up with lasting solutions to this menace that has seen one learner face murder Charges.
Among the solutions that are being put on the table include abolishing the boarding schools in Favour of day Schools.
Some of the proponents of this include Kenya national union of teachers secretary general Wilson Sosion. Sossion says that Kenya has come of age to have children go home in the evening so that parents can have an opportunity to instill morals. The sister Union kuppet is also supportive of the idea.
The task force that was gazetted last year to advise the CS Education Professor George Magoha has also advised abolition of boarding schools In junior secondary schools.
In yet another move, the CS education Professor George Magoha has put teachers on duty and principals on notice.
Adressing the media today, the CS said that in case there is a problem in a school, the teachers on duty and the principal will be held responsible.
The teachers will state where they were when such an event was taking place. "will ask the teachers and the principal where they were. Teachers will have to be held responsible."
This is happening at a time when the ministry has already sent directives to school principals ordering them to always stay in schools to check discipline.
Do you think the measure being suggested will help curb unrest? Feel free to share your thoughts and comments on this on our comments platform.
Content created and supplied by: @yokeabu (via Opera News )