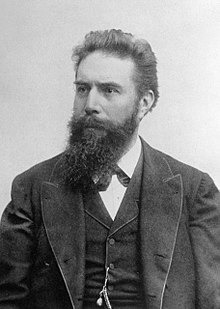 Wilhelm Conrad Röntgen was a German mechanical engineer and physicist.On 8 November 1895, he produced and detected electromagnetic radiation in a wavelength range known as X-rays or Röntgen rays, an achievement that earned him the inaugural Nobel Prize in Physics in 1901.
In honour of Röntgen's accomplishments, in 2004 the International Union of Pure and Applied Chemistry (IUPAC) named element 111, roentgenium, a radioactive element with multiple unstable isotopes, after him. The unit of measurement roentgen was also named after him.
He was born to Friedrich Conrad Röntgen, a German merchant and cloth manufacturer, and Charlotte Constanze Frowein.His mother was Dutch and at age three his family moved to Holland where her family lived.
Röntgen attended high school at Utrecht Technical School in Utrecht, Netherlands.[4] He followed courses at the Technical School for almost two years.
In 1865, he was unfairly expelled from high school when one of his teachers intercepted a caricature of one of the teachers, which was drawn by someone else.
Without a high school diploma, Röntgen could only attend university in the Netherlands as a visitor. In 1865, he tried to attend Utrecht University without having the necessary credentials required for a regular student.
Upon hearing that he could enter the Federal Polytechnic Institute in Zurich (today known as the ETH Zurich), he passed the entrance examination and began studies there as a student of mechanical engineering.
In 1869, he graduated with a PhD from the University of Zurich; once there, he became a favorite student of Professor August Kundt, whom he followed to the newly founded German Kaiser-Wilhelms-Universität in Strasbourg.
Content created and supplied by: Dr.proffnyacoma (via Opera News )