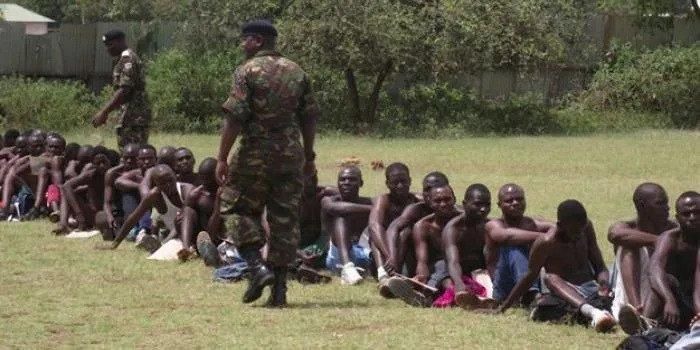 The Kenya Defence Forces (KDF) announced to the public the recruitment of General Service Officer (GSO) Cadets, General Service Officer (GSO) Cadets (Undergraduate degree holders), Specialist Officers, General Duty Recruits, Tradesmen/women and Defence Forces Constables, which started this months.
This process is still on going and has been affected by various challenges, this include fake academic documents by recruitee, low turn up among other challenges.
The candidates eligible for the posts were to have the following qualifications:
.Be Kenyan citizens with no dual citizenship and have a valid Kenyan National Identity Card.
.Be 18 and 26 years old for GSO Cadets, not above 30 years for Specialist Officers and not above 39 years for Chaplains/Imams.
Be physically and medically fit in accordance with the KDF standards.
Have no criminal record. (6) Minimum Height:
Men 1.60m (5ft 3in).
Women 1.52m (5ft)
Minimum Weight:
Men 54.55 Kg (120 lb).
Women 50.00 Kg (110 lb).
And Female candidates must NOT be pregnant at the time of recruitment and during the entire duration of training.
This process of recruitment is still on going through out the entire country with lucky youths securing job opportunities.
However, this was not the case in Isiolo County as majority of youths missed out the opportunities due to the most of female recruitees testing positive for pregnancies and men testing positive for intoxication of Marijuana.
Speaking to Radio Citizen after conducting the excercise,the Leutnant Colonel Martin Mbuvi who was the head of the excercise confirmed that the biggest challenge he found from the youths is that they use more of drugs.
From the toxicological tests most of the men tested positive for Marijuana. As female candidates tested positive for pregnancies. He said that from the arm recruitment Standards no lady should be taken when pregnancies because a woman is not allowed to train while pregnant.
The excercise left only less than 16 recruitees securing a chance to join the service from the entire Isiolo County.
"This was reported by the Local Radio station called Radio Citizen by the Radio's Broadcaster ( Fred Ng'etichi) on 17th February, 2021 during the 6.00 am News."
Content created and supplied by: Benadhizo (via Opera News )