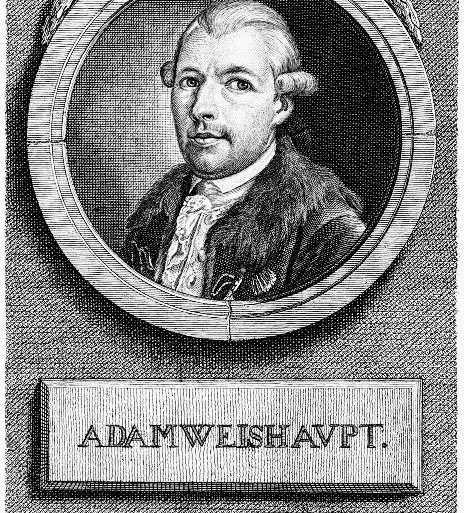 Adam Weishaupt was the founder of the famous secret society, Illuminati. Born in 6 February,1748 in a small village called Ingolstadt in Bavaria the present day Germany, Weishaupt showed a promising future during his tender age.
He was unlucky because he lost his parents at a younger age but his ambitions of becoming one of world's greatest philosopher was not doomed.
He managed to get good education from where he secured a teaching job at the University of Ingolstadt in Bavaria as a professor of law, he was unhappy with how the Bavarian regime treated it's citizens.
He formed a society, The Illuminati society which was to educate people on the benefits of philosophical engagement rather than simply accepting what the government and religion thought.
This society was formed in 1 May,1776 in secrecy because he did not want the government to Know about its formation. This secret society was to oppose religious influence on the society and to stop the abuse of power by the state.
Most of his members were his students at the University, who believed in his idea of search of truth and resolute liberty from the state.
After the French revolution, he was also accused of steaming a bilateral revolution against the Bavarian regime.
The government tried to put into halt the activities of this society but it was impossible because it was expanding rapidly.
When the Bavarian state got information that Adam was the person behind the society, it fired him from the University and it banished him, 300 km North of Ingolstadt from where he died in 18 November 1830 because of old age.
Do you think it was wise for the government to banish Adam Weishaupt
Kindly comment, like and follow.
Content created and supplied by: MasiriDigitalMedia (via Opera News )