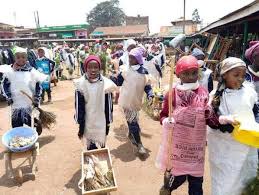 Compitency Based Curriculum was officially launch by president Uhuru Kenyatta last week to replace the old 8-4-4 system of education. The new system is aimed at imparting necessary skills to learners that are required in the job market as opposed to 8-4-4 which has been blamed for being exam centred.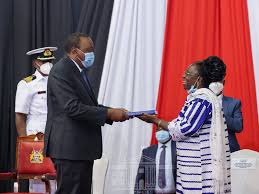 However details have now emerged that government is starring an an acute crisis in public secondary school when the CBC will be fully rolled out in secondary schools in the year 2023. According to today's Daily Nation newspaper there will be staffing crisis in secondary schools due to double expected in two years time. Government will be required to 60,000 more teachers to plug the deficit. Staffing problem is expected to deepen further as atleast 16,000 who are 58 years and above are expected to retire by 2023.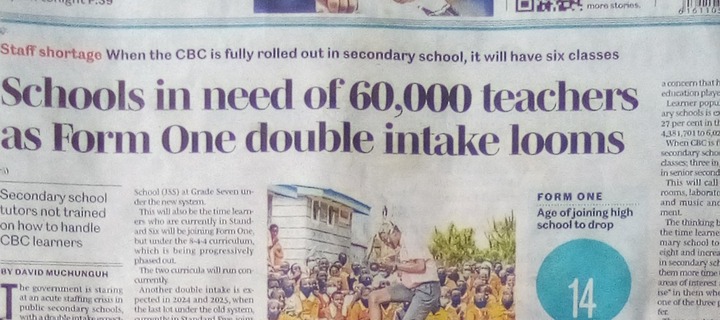 The source also reveal that teachers service commission has only trained 150,000 primary teachers on CBC at a cost of Ksh 1.8 billion since 2019 but is yet to begin training those in secondary school. This means that secondary school school teachers will be handling students with no knowledge of what the curriculum is all about.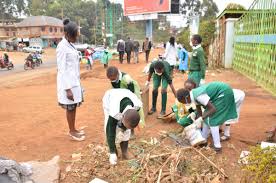 Inadequate infrastructures in secondary schools will also pose another problem in secondary school. This means that there will be strain on available resources. This has been a major concern by education plays because it will require to build more classes, dormitories, laboratories, workshops and music and sports equipment which are not available in most schools across the country.
Above challenges will pose major crisis in education sector that need to be addressed before 2023. Government should put in place necessary measures to ensure all are in place for successful roll out of CBC in secondary schools.
Content created and supplied by: #ruto (via Opera News )