Officer Who Died Guarding Bank Buried Without 21-gun Salute
A police officer who collapsed and died while guarding Equity bank in Meru on July 21 has been laid to rest.
Corporal Harrison Nkuja Gideon, 47, was interred at his family farm in Athiru-Gaiti in Igembe South, Meru County.
During the burial, the family ruled out their kin died of corona virus and revealed he succumbed to a heart attack.
Josphat Murungi, Nkuja's elder brother rubbished claims that his brother succumbed to the deadly respiratory virus.
According to Mr Murungi, his brother died of a heart attack.
"We received tests result showing that Nkuja died of heart disease but not coronavirus as alleged," he said.
Mr Murungi, however, stated that they were not aware of his illness until the demise of their kin.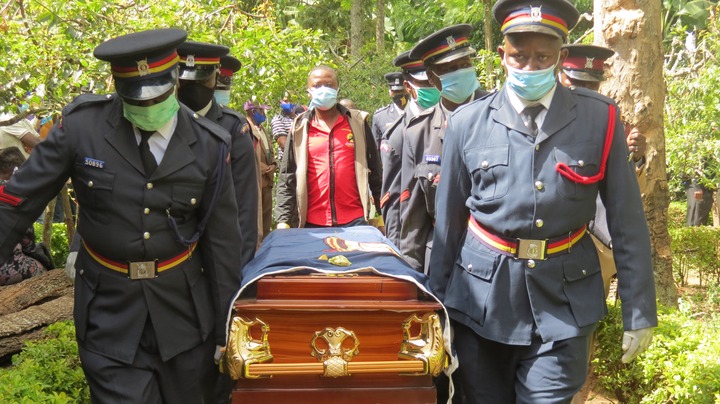 The deceased collapsed and died while guarding Equity bank at Makutano area, Meru County.
Corporal Nkuja collapsed in a washroom inside the lender causing panic to the bank staff and members of the public who thronged the institution.
North Imenti Sub County Police Commander Robinson Mboloi said the officer died inside the bank washroom at around 12.30 pm.
Unlike other colourful ceremonies where servicemen are accorded a gun salute, the deceased was not accorded one due to coronavirus pandemic.
"Due to Covid-19 we can't use our traditional 21-gun salute, instead, he will be led to the grave by the guard of honor," an officer in the know who would rather remain anonymous said.
The funeral and burial were hurriedly done with only family members and the colleagues of the departed officer allowed at the graveside.
Mourners eulogised the dead as a humble and philanthropic policeman who liked helping the less fortunate in the society.
During the emotional sendoff, the family described their kin as a patriotic Kenyan and people-person.
The bank was later cordoned off by the county Covid-19 surveillance team who picked the body while wearing personal preventive equipment.
The body was picked about two hours after the officer passed on due to Covid-19 precautions while the bank was later fumigated
Police officers in their ceremonial attire lowered the body to the grave draped in national police service flag without the traditional 21-gun salute.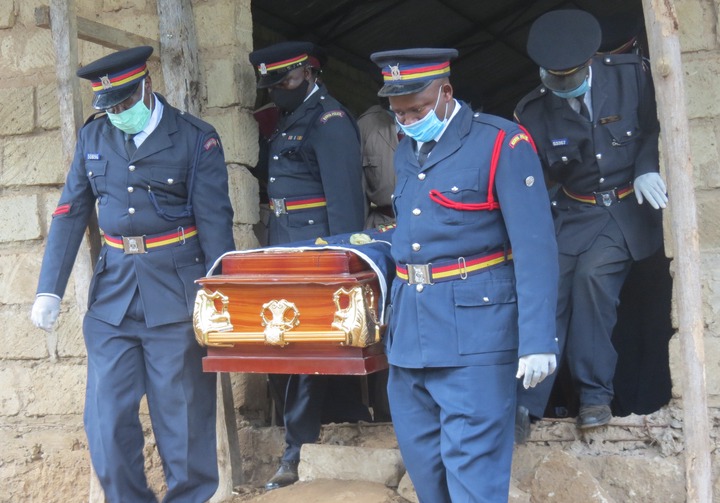 Source: KENBETT (via Opera News )