Kenya Defense Forces (KDF) Recruitment News 2020/21- Latest News, Requirements and Centers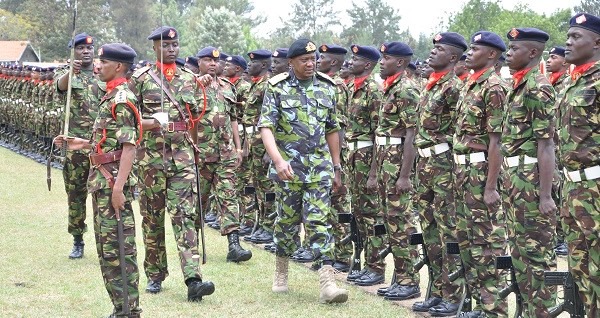 Recruitment of Specialist Officers and Cadets (General Service Officers) was supposed to take place in September and October this year. However, the Kenya Defense Forces postponed the exercise due to the insurgence of the Corona virus in the country. New dates were definitely announced. Before we do to the dates and centers, let us first look at the qualifications and conditions that must be met by those willing to join the Kenyan Defense Forces.
Specialist Officers Requirements
a) You must have been registered by respective statutory bodies where is applicable.
b) An undergraduate degree is needed (from an accredited institution or university)
c) Must have attained a B (Plain) grade in KCSE, with at least a grade of C+ (Plus) in one of the Sciences, English and Mathematics.
Note: This for Specialist Officers is done in a span of at least 3 months.
Fields Under Specialist Officers Requirements
Specialist officers needed include:
Medical Officers, Nurses, Pharmacists,Veterinary Officers, Dentists, Clinical Psychologists, Counselling Psychologists, Physiotherapists, Biomedical Engineers, Applied Mathematics and Information Technology Officers, Radiographers.
Others include: Engineers, Telecommunication Engineers, Journalists, Architects, Chaplains/Imams, Meteorologists, Textile/Garment Technologists, Education Officers, Instrumentation and Control , Lawyers, Directors of Music and Physical Training Officers.
Also there are Investigation Officers, Forensic Investigators (Cyber Security), Accounting Officers, Actuarial Officers and Geospatial Information System Programmers.
a. Conditions
(1) GSO Cadets must be of age 18-26. Specialist Officers be below 30 years. Chaplains/Imams should be above 30.
(2) National ID Card
(3) Kenyan citizen without dual citizenship.
(4) No criminal record.
(5) Physical and medical fitness paramount
(6) Men 54.55 Kg, Women 50.00 Kg (weight)
(7) Men 1.60m and women 1.52m (minimum).
Cadets (General Service Officer (GSO)
a) Must hold a minimum grade of B (Plain) in KCSE
b) At least a C+ (Plus) in Mathematics, English and one Science subject.
Note: The training period goes for three continuous years. Candidates will be awarded with BSc in Military Science and Security Studies upon graduation.
1) You need to carry clear photocopies of all your relevant academic certificates
2) Have your current National Identity card (ID)
Application to be sent to:
Assistant Chief of the Defense Forces (Personnel and Logistics)
Ministry of Defense- Defense Headquarters. Ulinzi House
P.O. Box 40668,
NAIROBI – 00100.
The dates have been pushed until further notice. This is as a result of the corona pandemic. However, just keep it here ans subscribe because immediately we get the communication we will put it here. Please follow us and make sure you share with others.
Content created and supplied by: Kenyanweekly (via Opera News )