The Kenya Power and Lighting Company has announced that illegal activities on the electricity network are the causes of loss of revenue which is needed to do network investment for better service quality. 
The Kenya Power management has also explained that illegal electricity connectivity results in cases of overloaded transformers. One thing power transformer is overloaded, it compromises the power quality. 
In a board of management meeting held today, KPLC has pledged not to relax in cracking down of all illegal power installations as well as disconnecting all the bypassed electricity meters. In a statement issued during the virtual meeting, the management assured the Kenya Power customers that the company has a fully trained team to carry out live maintenance of the network in order to minimise interruption of power supply. Additionally, the management insisted that those found guilty for violation of the Energy Act 2019 will face full force of the law. 
Note that if found guilty of illegal power installation, one is fined a million Kenya Shillings or one year jail term or both. And if found guilty for bypassing meters, you will be fined Ksh 50,000 and also serve a jail term.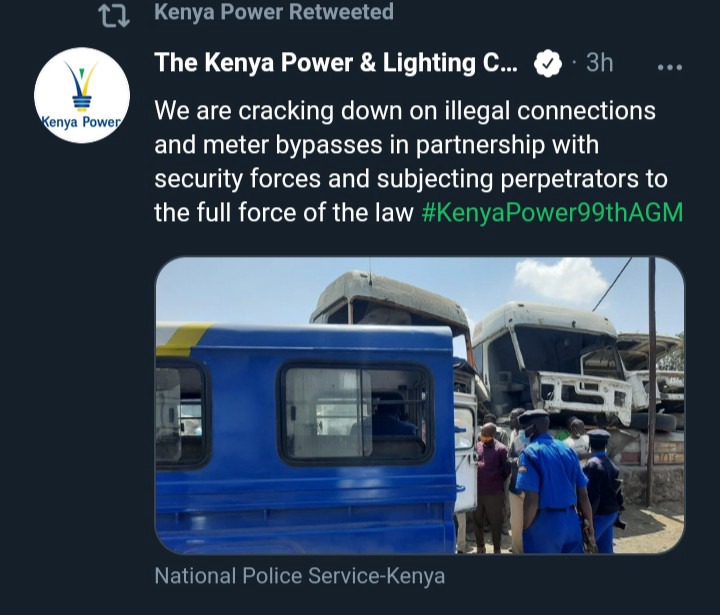 While reviewing the 2020 financial year during the meeting today, the Kenya Power management acknowledged that KPLC has faced operational as well as financial challenges which were aggravated by the COVID-19 pandemic. 
It was acknowledged that the last financial year was characterized by slowed down business activity and hence low electricity consumption. 
"The Board is privileged to be guiding the Company's business turnaround strategy which is geared towards making Kenya Power the energy solutions provider of choice, and growing shareholder value." KPLC management stated.
Content created and supplied by: Explanation (via Opera News )