Finding secret rooms and passages in your home can be a thrilling experience. It is cool at tes but not all secret rooms and passages have awesome stories some of them carry sad tales.
Holes in stairs
A couple was house hunting when they made a surprising discovery in one of the houses they were in.Behind the basement stairs, they found holes that allowed one to look out for whoever is coming.
Old chapel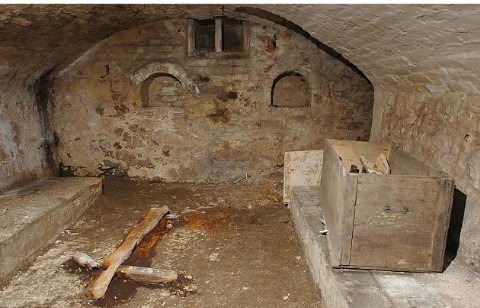 A couple found this metal grid in their hallway, in their farmhouse in England.They were curious to know what was on the other side, they climbed and found a really old chapel. It was a wooden cross and wooden pew.
Hidden tapes
A Redditor user called Lumberjack shared a photo showing a crawlspace he was able tp find in this attic.The room was soundproofed and 4 electric outlets. There was a briefcase filled with jewelry items and very lots of VHS tapes. One of them had really creepy writing that said:"No no no no no no".
Cold war shelter
When Placer Highschool in Northern California was being renovated the workers found this secret room. Inside it was water,food,medical kits and radiation suits. It was a cold war shelter that was supposed to be hidden.
Secret room
A group of Norwegian Students decided to rent a house.The landlord told them rumors about a secret room and got them curious,and they went round looking for it. They found a small living space where what looked like Nazi-oppressed families trief to hide. Inside the room was a map of Britain witj marks indicating safe locations.
Content created and supplied by: Feimoraa99 (via Opera News )