As section of Nairobi central Business District traders salvaging items after business structures were demolished. Along Ronald Ngala Mfangano Street on March 3, 2021.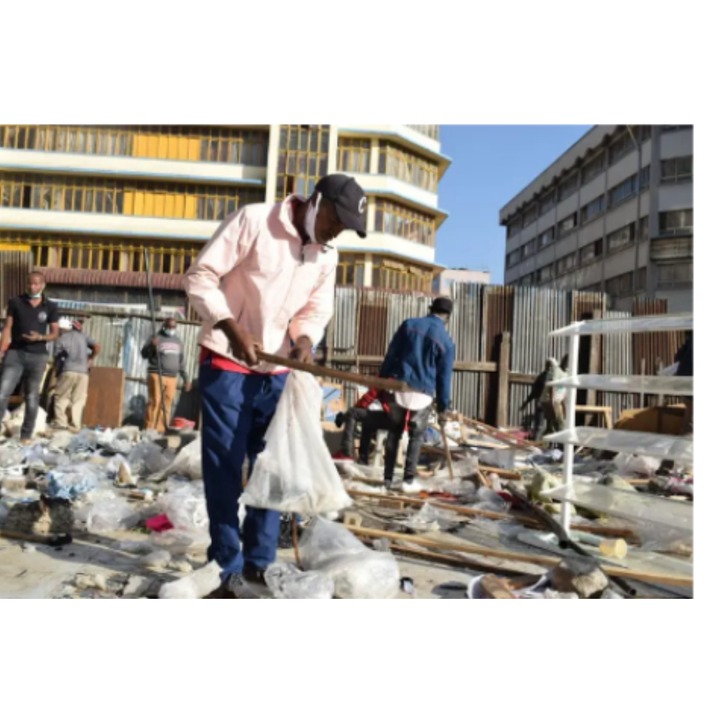 Asection of traders in the CBD are counting loses after their structures were pulled down by the Nairobi Metropolitan Service.
This comes after the landowner, developer Musafa A. Hebatula investment Limited decried tresspass and illegal occupation on land LR 209/693-Ronald Ngala.
According to inspectorate directorate at National metropolitan service, the land owner had legal documents showing ownership of the parcel.
The head of enforcement at National metropolitan service Dr. Mark leleruk said they conducted a site visit on January 19, 2021 after receiving a complaints from Atonga and company on an illegal and occupation parcel of land LR 209/693–Ronald Ngala on December 16, 2020.
This comes just when kibra residents also were displace in their plots allowing the land to be constructed amenities.
National metropolitan service which is headed by Mbadi, has been improving the capital city of Kenya. In just six month, their are good roads and residents now gets their water near their homestead as compared to last years.
Content created and supplied by: Miltonbabu9 (via Opera News )