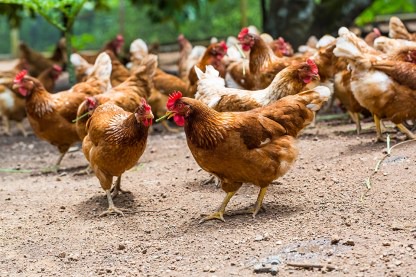 Agribusiness is the ideal ideas nowadays to venture in. Considering that there is no single day agricultural products will lose market at all. At peak times you may earn more from selling your products. These earning can double your monthly earning if you do it with devotion. The best agribusiness idea to start is chicken rearing. This ideas is so flexible since the capital needed is small no more time needed and production is always at peak.
With only 20k as you starting capital, you need to take 10k and construct a good shelter for your chicken. Ensure the house is perfectly constructed with sufficient air ventilation. The other 5k you will have to buy some chicken mash (grower mash). After installing the house you will have to order some 100 chicks old of 2 to 3 weeks. On average each chick will cost around 50 bob.
It is very important to get adequate equipment ready and set before starting a poultry farm so that you don't get stocked on the way. Some of the necessary equipment includes:
1. Feeders and drinkers,
2. egg trays
3. heat source,
4. waste disposal,
Start rearing your chicks and ensure you feed them well. Feeds and feeding carries a big weight in poultry farming and enough plans should be put in place. One can choose between producing feeds or buying from distributors. Proper feeding makes the birds grow well and to a larger extend their health is secured.
After 3 months your chicken will have attained maturity age. They will start laying eggs. On a good day you can collect around 3 creates of eggs. In a year you will collect 3*30*12 =1080 creates. One creat of eggs costs 300*1080 =324k. Take 24k as expenditure and save 300k. Is this not good money.
Content created and supplied by: djflykicks (via Opera News )