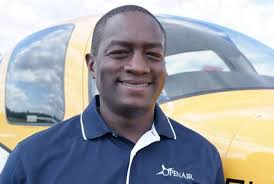 Tom Rege is son to ex Karachuonyo MP James Rege. He is one hardworking just like his father who is a telecommunications engineering professional, he is a captain as well an instructor in his own aviation company that he operates in the United States.
Tom Rege owns a fleet of planes that he uses to train the poor and the vulnerable on matters flights. He has focused more on his profession and dream in the flight and planes something he started way back in the 70s hence highly experienced.
Tom Rege is an entrepreneur having started long ago when his father moved to the United States. He has concentrated more on his entrepreneurial work something that has seen him move to greater heights.
Tom Rege is among the young billionaires who work abroad. He is credited for starting a planes company where the cheapest of his planes cost a minimum of Ksh 65 Million. He however does not boast of anything despite him coming from a powerful political family.
Tom Rege has concentrated in personal prosperity and success something that has seen him move great moves in his life. He believes aggression as one power that has kept him afloat and moving to the future with full expectations of a bright future. We can only wish the handsome a great future as well more success going into the future.
Content created and supplied by: Kautelo (via Opera News )