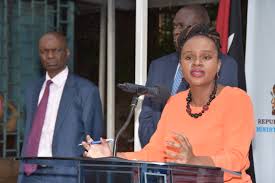 H.A.S Dr Mercy M. Mwangangi
Covid-19 has continued to deteriorate the continuity of many development sectors across the country. Agriculture, business, education are among the most affected areas as have been staggering due to tye impacts of coronavirus.
Since the closure of counties that record the highest cases of coronavirus including Nairobi, Mombasa, Nakuru, results are showing that the pandemic is still on it's highest peak as the positivity rate is revolving between 15% to 25%.
Consequently, this high values indicates that it's not yet safe for citizens to continue operating normally. With this Kenya is still under hot soup unless a total lockdown is imposed across the country. Ceasing people from moving from one county to another will hugely help in reducing the spread of the pandemic.
This basically means that if the concentration of people remains within their respective counties, then with the help of the vaccines alongside other measures, the virus will be alleviated. This will reduce the period taken to resume normal life than battling the pandemic in shifts.
Content created and supplied by: [email protected] (via Opera News )