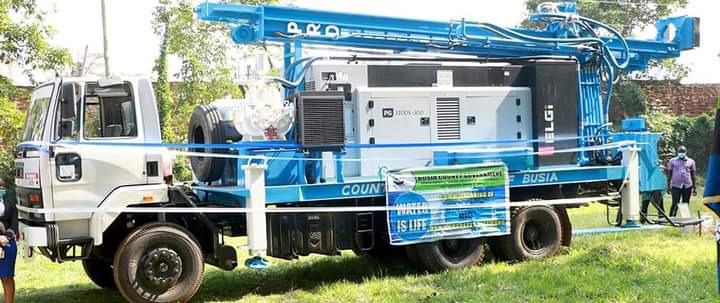 The County Government of Busia will use the newly acquired drilling rig to flush over 2000 drilled boreholes that have not been serviced or maintained for the last 30 years.
In his presentation during public participation on County Fiscal Strategy Paper at Busia Agricultural Training Centre, acting water director Juma Mulika said flushing will ensure reliability and sustainability of the water infrastructure.
Mr. Mulika said Butula and Matayos have 300 people sharing a water point, Teso North 600, Funyula, Teso South and Nambale 800 each while in Bunyala 1000 people share a water point.
"In terms of distance covered, 86 per cent of county residents collect water in less than one hour time frame; accessibility stands at 56% with 81.6% being improved water sources and 75% functional sources.
Director Environment and Climate Change Dan Opilio said in the financial year 2019/2020 the directorate established the County Climate change coordination unit and county environment committee.
"Other achievements included employment of GIS officers, development of climate change , integrated waste management, county forest management bills, county environment and sand harvesting policies.
The directorate also managed to plant more than 100,000 tree seedlings in schools, reparian and degraded area, rehabilitated and restored more than 10 hectares, and public sensitization on environmental, natural resources and climate change matters.
Mr. Opilio said the directorate plans to set up climate change unit and Ward level climate change development committees as per the world bank requirements.
"Other plans include development of climate change finance policy as per the world bank requirements for funding and promotion of climate change awareness creation and sensitization.
Content created and supplied by: HabarIbuka (via Opera News )