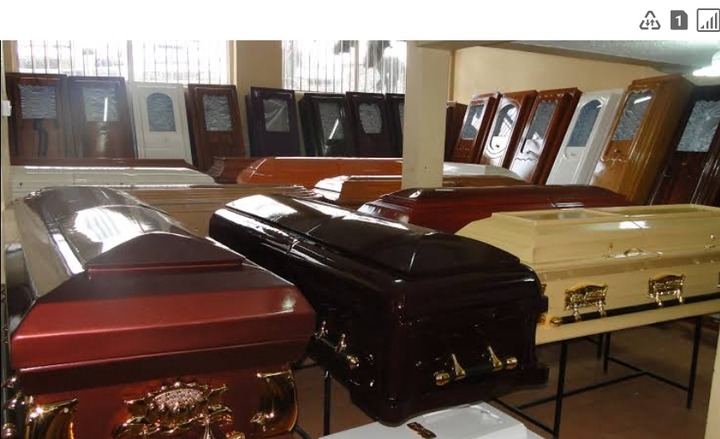 Since the advent of Covid-19 in March 2020 many businesses in Eldoret town, just like in other parts of Kenya have drastically plummeted to the verge of closing rendering many people jobless.
On the other hand, some businesses flourished amid covid-19 crisis. The virus has significantly changed how people live and work not only in Kenya but across the world.
In Eldoret the coming of coronavirus changed the fortunes of one Sarah Lincoln who transformed from being an advocate at Mathai law firm to selling coffins at Jua Kali area in Eldoret.
The advocate said she ventured into selling caskets after being laid off from the law firm due to the effects of Covid-19.
The mother of 2 children said she started from a humble beginning as a coffin broker where she used to earn Sh 500 that she managed to save and started her own casket shop with only three coffins at the beginning.
Her business picked up gradually from September 2020 and within a period of five months she could be able to sell at least 4 caskets when business was good."I am blessed I am not a hustler as people say because a hustler is someone struggling to earn a living," said Ms. Lincoln.
Besides being a coffin seller, the entrepreneur also owns rental hostels at Kaptagat house, and Lincoln Hotel, all in Eldoret town. She is also a farmer.
Like Richard Branson once said, "Business opportunities are like buses, there's always another one coming", the coffin business like any other business, faces stiff competition from upcoming casket sellers. This has forced the entrepreneurs to resort to 'hawking' to capture more clients to their shops.
Although the coffin selling business has been discredited by many, Ms. Lincoln encourages the youths to always have an an open mind to explore entrepreneurial opportunities to create self-employment instead of waiting to be employed by other people and firms.
Content created and supplied by: Johnmuga02 (via Opera News )