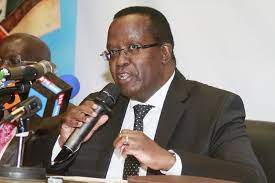 [Kenya Power Chief Benard Ngugi/Courtesy]
The State is exploring Sh65.96 billion Kenya Power business obligation to resign costly ones through global accomplices to lift the utility firm from a liquidity crunch.
Kenya Power's most recent exposures show that the administration considers this to be a method of saving the organization from high advance adjusting costs that have added to the diminished fortunes of the power dissemination imposing business model. 
"The public authority of Kenya is exploring Kenya Power's current business offices with the objective to resign costly ones through commitment on great standing with global accomplices," said the firm. 
The on-loaned obligations, tapped from foundations like International Development Agency (IDA), China Exim Bank, and Japan Development Bank, are ensured by the State and accordingly payable to the public authority. 
Kenya Power effectively appealed to the public authority to allow a ban for the installment of head and interest on State on-loan advances adding up to Sh5.7 billion until July 2021. 
"This will empower the organization to meet its operational commitments until the circumstance gets back to regularity," said Kenya Power. 
The firm has been battling with respecting obligation reimbursements—particularly those with one-year development—and has opened talks with loan specialists to change over momentary business offices into medium-term obligations. 
The association's primary business loan specialists incorporate Standard Chartered Bank, Rand Merchant Bank, Equity, Stanbic Bank, and Agence Franchise Development. 
Its all-out obligations as at end of last June remained at Sh118.73 billion, comprised of Sh65.96 billion business obligation and Sh53.26 billion on-loaned obligation. 
Content created and supplied by: Ben_54 (via Opera News )