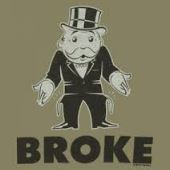 We all have our low episodes financially. There is that point sometimes where you barely have a coin to spend. There is the obvious feeling of being broken deep down accompanied by a feeling of unworthiness. At this moment, you barely want to interact with people because you feel inadequate.
However, being broke has its own advantages. When you go broke, you immediately flash your mind to the last time you had money and how you spent it. At that point, it is easy to decide whether you misused the money or not.
Being broke also opens up your mind. You start thinking of ways you can make money to avoid coming back to the same state of being broke. It is difficult to figure out creative ways of making money when you have the money because the mind is contented. You also really tend to minimize your expenses so that you can survive for a longer period with whatever little money you have left.
If these adjustments can be permanently applied so that even when one becomes financially stable expenses are minimized, then wealth can be built.
Content created and supplied by: Cooper_senior (via Opera News )