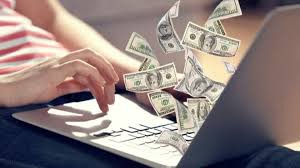 these are the best and the simplest ways to make money quickly both online and offline.follow for more money making content.
1.review music for money
love of music can earn you cash. make your love be a business by reviewing unsigned bands and artists online for cash with slicethepie.one can earn upto 4000 ksh daily it all depends on your reputation.
2.finding a part time job
this acts as another income stream.a part time job is the obvious choice for most people.it provides a pretty steady flow of income and can enable you to gain valuable work experience.
3.write and publish a kindle ebooks.
researching and writing enables one to be able to write an ebooks and make money on Amazon.one can list his or her book 200 ksh to 5000 ksh.
4.become a delivery rider or driver
got a bicycle or a car you can make some deliveries for organisations such as jumia, glove, . that's all you need to make extra money by delivering food or people whenever you've got some spare time.
5.test websites
well it seems like you are pretty nifty with a web browser, so perhaps it's time to turn pro a d browse websites as a paid and fun job. websites like validately pay 1000 ksh to 2500 ksh for a single 10 mins websites tests.
6.online betting.
always for the above 18. betting is also a way of getting money quickly. if you are skilled and understand the processes then you are good to go .it is addictive so bet responsibly.
7.rent out your stuff
if you have a car, a motorcycle or a bicycle you can easily rent it out for fee lets 5000 ksh for whole day when renting it out.
8.babysitting
it is a classic money maker and for a good reason.you get paid to look after people's children or pets it's a good way of earning cash quickly and acts as a perfect part time job.
8.become your own bank.
peer to peer lending is the future of banking. it cuts out the middleman, passing on higher interest rates to you and cheaper loans to borrowers.and it's all managed online from the comfort of your sofa.
9.freelance work
perhaps you enjoy writing, managing Facebook pages or doing a little bit of graphic design in your spare time. there are so many freelance jobs out there that require simple skills or just time that someone else might not have.
Content created and supplied by: de_vancy (via Opera News )