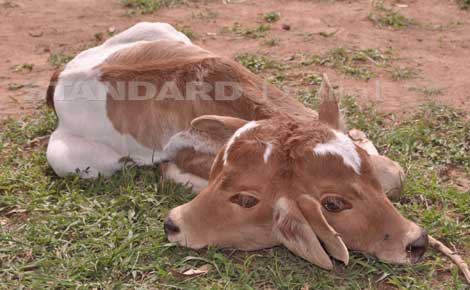 Human beings practice agriculture that consist of crop cultivation and rearing of livestock. The livestock kept by the citizens include cattle, goats, sheep, pigs and donkeys that play key roles in our society such as source of food, dowry payment and some used for transport purposes.
Drama has been witnessed today in Sienga village in Navakholo Constituency that is found in Kakamega county following the act of a cow giving birth to a calf with shocking body parts such as two heads, eight legs and two tails.
Mrs. Eunice Masinde the owner of the cow said that she got surprised seeing her cow giving birth to uncommon calf. She narrated saying it took an effort of four men to help pull out the calf from it's mother's birth canal that took around four hours of operation after the cow was unable to give birth on it's own.
Mr. Josphat Khauma the village elder in the same village was shocked saying he has never witnessed such an incident in the village and that it was the first case to be reported in the village since he was born.
Mr. Khauma added on saying that the incident was a bad omen in the village and that village elders are required to conduct a cleansing ceremony in the home of the affected person to avoid the wrath of the bad incident happening in the near future.
In conclusion, the source of this information is from a local radio station known as West FM and the news reporter is called Sheldon Asakhulu. The news are dated today 18/2/21 at 7:00 pm.
Content created and supplied by: Felixotoro (via Opera News )