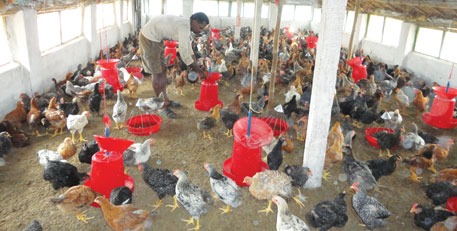 Buying a motorbike especially a new one goes upto a hundred thousand.After buying it, you will now start to count the cost of renewing its licence,its maintenance cost and ofcourse the cost of fuel.
Nowadays,investing in motorbikes is a higher risk since the bussiness is facing alot of competition and for sure we know that the bike depreciates its value by time.
invest that 100k in this type of pourtly farming.
There many types of pourtly farming but lets focus on the layers.
Cost of construction
construct a battery cage system which can hold upto ninety layers.The structure can be a cuboid in shape so as to minimize the space.
Here,in that cuboid structure there will be cubes where by each cube can hold a maximum of three layers.
So for ninety layers, it will be(1cube ×30)so there should be thirty cubes to hold ninety layers.
The cost of buying iron sheets,nails,wood,wire mesh,labour and transport will be:
a single iron sheet of 2 and half metres can be partioned into 3 parts where each part can be cube hence 10 horizontally arranged sheets will have 30 cubes.The roof tops will just require 5 sheets since each sheet can be cut into two pieces to attain a cuboid shape.The front side will be made of wire mesh and the sides will just require 1 sheet each.
The total number of sheets will be 17 where each goes for 500 total equals 8,500 the cost of nails may add upto 1500.So far that is 10,000 remaider is 90,000.
Construction might take 4 days due to accurate measurements.This means that the cost of labour will be (4 days × 1500)=6,000+(4,000 for wire mesh) total is equal to 10,000.The remaining amount is 80,000.
Wood is locally available at a cheaper price and due to the cost of transport it will add upto 10,000 where the remaining amount will be 70,000.
The cost of buying chicks
A single chick is 200 for ninety of them is(200×90)=18,000 thats almost twenty thousand.Now, the new balance will be 50,000.
maintainance cost
The remaining 50,000 have a capacity of feeding,watering,vaccinating and maintaining those chicks for 6months until they are mature and ready to start laying.
income amount will be:
For those six months you will have adequate time to search for a good market where you will be selling your eggs from as little as 10bob per egg.
Since they are 90 layers there will be 90eggs per day.Total income per day is (90eggs × 10) =900.Total earning per month will be (900 × 30)= 27,000.
Lets count seven thousand to stand for feeds.
This assures you that you will be saving twenty thousand per month and by ten months,you can double the project from your two hundrend thousand.
Content created and supplied by: LeeNuys (via Opera News )