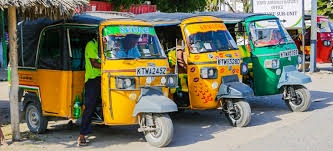 Tuktuk is commonly used in Kenya as one of the means of transportation.The three wheeler tuktuk Carry a maximum of three passengers at a time.
In Kenya, the tuktuk business is considered to be one of the top lucrative businesses which can earn you much Profit at given a time provided you maintain proper services of the tuktuk.
This three wheeler automobile is bringing income daily just like a matatu, the owner can operate it or hire driver upon daily money remittance agreement between them.The owner is always paid at least ksh. 800 which can differ from one region to another.
Why the business is more Profitable?
Tuktuk is always taken to be operating like Uber which means, it can be hired daily,
Tuktuk's drivers can therefore book customers for daily tranportations especially to and from the customers residences and work places,
Tuktuk is taken to be the most convenient means in town to town service especially the Bajaj type which doesn't make noise,
Most of the spare parts of tuktuk are not expensive compared to other vehicles used as Ubers,
Tuktuk's body is metallic which save in cost of repair in case of deformation which may occur due to some unavoidable circumstances like road accident.
Now taking into consideration to economy, the cost of one tuktuk is about ksh.400,000 and if you add with other expenses like insurance, branding and other stickers, the total cost can be ksh.450,000. Remember you will earn at least ksh.800 daily which means you can save ksh.500 per day and ksh.300 goes to emergency account including oil exchange services which you can do every fortnight costing ksh.1300 each service.
Now, how do you see this amount after one month? You shall have save around ksh.15,000 which is ksh.180,000 per year. Note that, tuktuk can take over five years before you do major repairs in engine which normally needs more expenditure. Therefore, you can operate the tuktuk business for around five years to maximum Profit.
Share, like, comment and continue checking for more informations
Content created and supplied by: Rosymbo (via Opera News )