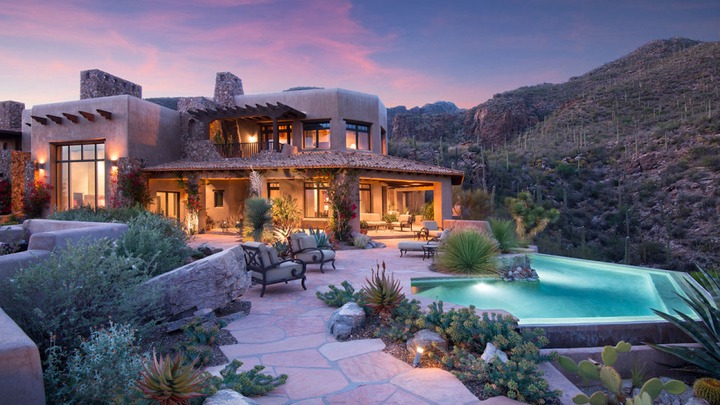 Imagine you have just been given 100 million Kenyan shillings cheque with the only condition being that you cab only use it to buy a house anywhere in the world. Here are some homes around the world that would fit in your budget of 100 million Kenyan shillings;
1.) Mountain estate in Tucson, Arizona. With 100 million, you can live in a mountain estate 4,560 square foot. It has a floor to ceiling windows , a decked games room and an expansive patio. It also has a 237 square foot guest house.
2.) Australia. You will get 3 bedroom house with 2 bathrooms in an affluent suburb of caulfield. It features its own front and back yard and its near Saint Kilda beach. However, the median Melbourne house price is 881 thousand dollars, so with our 100 million you will be able to get a tiny flat next to the ocean or a 5 bedroom mansion on the rural outskirts.
3.) Burj Khalifa, Dubai. 100 million Kenyan shillings allows you to own an apartment in the tallest building in the world, Burj khalifa. It will include a 2 bedroom and 2 bathroom stylish apartment covering 1,800 square foot.
4.) Bali island, Indonesia. Estates here sell at ksh 26, 900 per square foot. With 100 million you can get a 3 bedroom villa fully furnished with a private pool. This property is found near Congo beach.
5.) Surat Thani, Thailand. You will get 3 bedroom villa that has an infinity pool which overlooks the bay. It is found in the Sunkis island of Koh Samui.
6.) Balidka Zoo, Instanbul. Includes a private pool and direct access to the beach. It is on a 8,600 square foot land. It is a 5 bedroom villa.
7.) Paris. The average cost of an apartment at the French capital is 1,300 dollars per square foot. With 100 million Kenyan shillings, you will get a 667 square foot apartment in the French capital with a 2 bedrooms. This apartment is in the city.
8.) Florida. You will get 1,800 feet square of living space , 3 bedroom and also have access to 2 swimming pools ,a hot tub and a tennis court.
9.) Discovery Bay, Hongkong. It features 3 small bedrooms, 2 bathrooms and a wonderful ocean front view.
10.) New York. The median price of a one bedroom apartment is almost 100 million Kenyan shillings. It is a one bedroom 640 square foot apartment in the west that comes with a private terrace and a gym in the building.
Which of the above places would you prefer to buy your house in?
Content created and supplied by: MindMaster. (via Opera News )