The world has enough wealth and resources to ensure that the entire human race enjoys a basic standard of living. Yet people in countries like Burundi, South Sudan and the Central African Republic—the three poorest in the world—continue to live in desperate poverty. For other likely contenders for the undesirable title of poorest of the poor—like Afghanistan, Syria and Lebanon—years of military, social, political turmoil make it impossible to attempt any assessment due to the lack of reliable economic figures.
But how do we measure how poor or wealthy a given nation is compared to another? While GDP per capita is often considered the standard metric, by compensating for differences in living costs and rates of inflation the purchasing power parity (PPP) can better assess an individual's buying power in any given country.
It is hard to pinpoint a single cause of long-term poverty. Dictatorial and corrupt governments can make what could be a very rich nation into a poor one. And so does a history of exploitative colonization, weak rule of law, war and social unrest, severe climate conditions or hostile, aggressive neighbors. Hence why economists often refer to "cycles" of poverty. For example, a country in debt will not be able to afford good schools, and a poorly educated workforce will be less capable of fixing problems and creating conditions that will attract foreign investment.
Underprivileged households worldwide, it goes without saying, suffered the worst social and economic consequences of the coronavirus pandemic. In countries with high shares of informal employment, lockdowns fueled joblessness and abrupt loss of income for many of those workers. Health costs associated with the virus pushed or sent further into poverty hundreds of millions across all regions. The pandemic also exacerbated preexisting gender occupational differences, driving many women deeper into poverty. And as we already indicated, lockdowns and school closures are expected to cast a long shadow on millions of children's future prospects too, with the World Bank forecasting that in low and middle-income countries the current generation of students will suffer a loss in lifetime earning of $17 trillion.
Before Covid-19, the fraction of the world's population living in extreme poverty, meaning on less than $1.90 a day, had fallen below 10% from more than 35% in 1990. The pandemic not only halted but reversed that progress: by the end of 2021, the IMF has estimated, an additional 150 million people are likely to have entered the ranks of the extreme poor.
 Then, the war in Ukraine came to make things worse, triggering sharply higher prices for staples and wide supply shortages, hurting especially poor households globally. "This crisis unfolds while the global economy was on a mending path but had not yet fully recovered from the COVID-19 pandemic, with a significant divergence between the economic recoveries of advanced economies and emerging market and developing ones," IMF's chief economist and director of research, Pierre-Olivier Gourinchas, wrote in the foreword to last April's Economic Outlook report.
Possibly the worst-case scenario materialized. Just three months later, in an update to the previous report where global growth was downgraded and inflation forecasts revised up, the IMF warned that the food crisis had worsened drastically: "Low-income countries, where food represents a larger share of consumption, are feeling the impact of this inflation most keenly. Countries with diets tilted toward commodities with the largest price gains (especially wheat and corn), those more dependent on food imports, and those with a large pass-through from global to local staple food prices are most distressed. Low-income countries whose people were already experiencing acute malnutrition and excess mortality before the war, especially in sub-Saharan Africa, have suffered a particularly severe impact." Meanwhile, the IMF's sister institution, the World Bank, has estimated that for each one percentage point increase in food prices, 10 million more people will fall into extreme poverty worldwide. 
These reversals of gain in poverty reduction are especially visible in the world's 10 poorest countries, and all of them, as suggested by the IMF, are found in Africa. In these countries, on average, the individual share of the gross domestic output is roughly $1,350. By contrast, in the top 10 richest nations this figure is close to $100,000.
Three of the countries in our list are in or part of the Sahel region, where persistent and widespread droughts cause food shortages and associated medical and social problems. Five of them are landlocked, putting them at a considerable disadvantage relative to those with access to maritime trade when it comes to both importing and exporting goods. All have experienced political instability, disputed elections, and ethnic or religious strife
Madagascar
Located 400 kilometers off the coast of East Africa, Madagascar is the fourth largest island in the world. Known for its astonishing wildlife, the flourishing tourism industry has not been able to lift the country out of poverty. The majority of the population is still dependent upon agriculture for their livelihoods, leaving the country's economy especially vulnerable to weather-related disasters. Since becoming independent from France in 1960, Madagascar has experienced bouts of political instability, violent coups and disputed elections.
Yet, in recent years, Madagascar finally seemed on an upward trajectory. President Andry Rajoelina and his predecessor (and archrival) Hery Rajaonarimampianina had made poverty reduction and infrastructure development major priorities. Growth was increasing steadily, structural reforms were underway and foreign investors coming back.
But they were just that—promises, mostly. Rajoelina, his critics say, has proved to be corrupt and ineffective (although he recently sacked all his ministers blaming them for the very same reasons). The pandemic triggered a sharp recession, hitting especially hard the population employed in tourism and in the manufacturing sector (Rajoelina top strategy to fight Covid was peddling a locally produced herbal beverage). What is worse, the outbreak also depleted the availability of fiscal resources for priority investments and social programs.
Madagascar could not escape the worst consequences of a war taking place over 7,000 kilometers away either. The collapse in grain deliveries from Ukraine and Russia has sent food prices skyrocketing, increasing the risk of famine in a country that already has one of the highest rates of childhood malnourishment and stunting in the world.
Chad
Chad is the tenth-largest oil reserve holder among African nations—it is also among the ten poorest. The landlocked Sahelian country, once an agrarian economy, became an oil producer in 2003, but the sudden windfall brought wealth to a few and misery to many.
At the time, the government introduced a law earmarking 80% of royalties and 85% of dividends from oil production for poverty relief. These sums were supposed to finance communities, infrastructure, health and education, but autocratic president Idriss Deby—who had seized power in a military coup in 1990—immediately moved to gain more control over those capitals. Just three years later, the law requiring to consult with churches, trade unions and non-profit organizations on how to allocate the money was repealed.
In the years that followed, most of the funds were then used by Deby to stay in power by fighting rebels in the east and north of the country and cracking down on political opponents and any form of dissent. When Deby was killed last year while visiting troops fighting an armed uprising, a military council headed by his son, Mahamat Idriss, took control of the country. The constitution was suspended shortly thereafter, and both government and parliament were dissolved, with the military vowing to hold a "free and democratic" election after 18 months—a so-called transition period can be renewed once.
So far, the council has shown very little desire to organize such an election. In the meantime, more than sixty years after winning its independence from France and two decades after becoming an oil-producing nation, Chad still ranks near the bottom of the United Nations' Human Development Index. The country's coffers should get a boost from the rise in oil prices, but what good is that for when the median life expectancy at birth, 54, remains one of the lowest in the world?
Malawi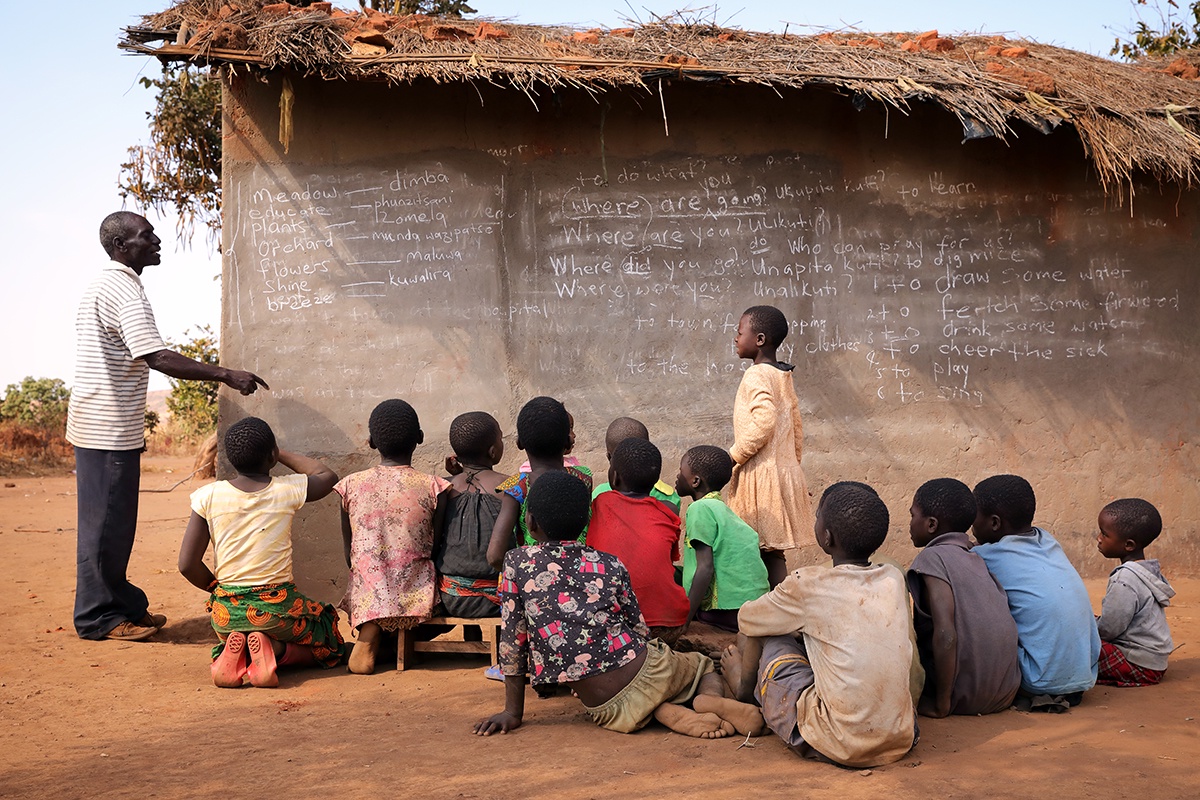 One of Africa's smallest nations, in recent years Malawi has made strides in improving economic growth and implementing crucial structural reforms. Nevertheless, poverty is still widespread, and the nation's economy—largely dependent upon rain-fed crops—remains vulnerable to weather-related shocks. As a result, while living standards in urban areas are broadly improving, food insecurity in rural parts is extremely high.
Malawi is a generally peaceful country that has had stable governments since gaining independence from Britain in 1964. However, disputed poll results are far from being an anomaly. In 2020, the country's constitutional court annulled former president Peter Mutharika's poll win in the previous year's general elections citing vote tampering. Theologian and politician Lazarus Chakwera, who was sworn in his place, declared that he wanted to provide the kind of leadership "that makes everybody prosper." The pandemic put that plan on hold: in 2020, the country's GDP dropped to 0.9% from 5.4% a year earlier, and it recovered only modestly since then. Year-on-year inflation, in the meantime, has risen to about 20%.
Mozambique
The former Portuguese colony has plenty of arable land and water, and ample energy and mineral resources. Mozambique is also strategically located, as four of the six countries it borders are landlocked and depend on it as a conduit to global trade, and over the past decade has often posted average GDP growth rates of more than 7%. Yet, it remains among the top 10 poorest countries in the world, with large sectors of the population continuing to live well below the poverty line. While a 15-year long civil war ended in 1992, severe climate conditions, corruption and political instability never went away. To make things worse, since 2017 attacks carried out by Islamic insurgent groups have plagued the gas-rich northern part of the country—up to 4,000 people were killed and another 800,000 displaced.
When, in the summer of 2020, French company Total S.A. secured $15.8 billion in funding for a liquified natural gas facility in the region—the biggest foreign direct investment in Africa ever—many hoped the project would mark the start of a new beginning. However, in April 2021—after repeated setbacks due to the escalation of violent attacks in the area—the company announced that it would suspend its operations indefinitely, depriving the country of much-needed income. Since then, the attacks only intensified and have spread to other areas.
Niger
With 80% of its landlocked territory covered by the Sahara Desert and a rapidly growing population largely dependent upon small-scale agriculture, Niger is under threat from desertification and climate change. Food insecurity is high, as are disease and mortality rates, and the army's recurrent clashes with jihadist group and Islamic State (ISIS) affiliate Boko Haram have displaced thousands of people. One of the main drivers of the economy—the extraction of valuable natural resources such as gold and uranium—has also suffered from volatility and low commodity prices.
Nevertheless, the largest nation in West Africa seems to have finally entered a new political and economic transition phase. Wracked by military coups since its independence from France in 1960, in 2011 Niger declared veteran opposition leader Mahamadou Issoufou winner of the presidential polls. Since then, the adoption of a new investment code, improved access to credit and somewhat faster access to water have contributed to a sharp increase in foreign direct investment. When Issoufou stepped down this year after two five-year terms in office, despite an attempted (and thwarted) military coup, Niger inaugurated a new president—the teacher and former interior minister Mohamed Bazoum—in its first democratic power transfer. The country, which is now considered a bright spot on the continent, will see its economy expanding by up to 7% this year and in 2023, and is now projected to achieve double-digit growth by 2024.
Somalia
Three decades of internal violence and conflict resulting in the displacement of hundreds of thousands of people, frequent droughts and floods followed by famine and disease, lack of access to health services, massive levels of unemployment among especially young people —Somalis are growing hopeless.
This country of 16 million in the Horn of Africa never seems to catch a break. The sustained GDP growth shown in the latter part of the last decade was interrupted in 2020 by the compounded effect of the coronavirus pandemic, an infestation of locusts unprecedented in modern times and intensified floods, which caused the economy to contract. Then, when a tenuous recovery was underway, the blockade of Ukraine's wheat exports plunged the country further into despair, filling local health facilities and with severely malnourished children.
Yet, the World Bank says, Somalia could have a brighter future: "Rapid urbanization, growing use of digital technologies, planned investments in sectors such as energy, ports, education and health can support economic growth and job creation." 
Somalis pin their hopes on Hassan Sheikh Mohaved, who was re-elected president last May after serving in the same position from 2012 to 2017. A former academic and peace activist, he is considered a skilled politician with a strong reputation as a consensus-builder between political and regional factions. But the challenges he faces, needless to say, are daunting.
Democratic Republic of the Congo (DRC)
Since gaining independence from Belgium in 1960, the Congo has suffered decades of rapacious dictatorship, political instability and constant violence. The country turned a page in 2019, when Félix Antoine Tshisekedi Tshilombo—the son of legendary opposition leader Etienne Tshisekedi—was elected as the new president.
The tasks he faces are daunting. His controversial predecessor Joseph Kabila—who had governed since succeeding his assassinated father in 2001—is credited for bringing an end to what is commonly referred to as the "Great African War," a conflict that claimed up to 6 million lives, either as a direct result of fighting or because of disease and malnutrition. However, he did little to improve the lives of people who survived the war. On the contrary, a recent leak of financial documents shows how—while in power—he used a private bank to embezzle about $138 million of public funds. Meanwhile, roughly three-quarters of the country's 90 million population is still living on less than two dollars a day.
With 80 million hectares of arable land, over a thousand minerals and valuable metals under its surface and a citizen median age of just 17, the Democratic Republic of the Congo—the World Bank says—has the potential to become one of the richest African nations and a driver of growth for the entire continent (even just by virtue of being the world's largest producer of cobalt and Africa's leading source of copper, two metals essential in the production of electric vehicles). Endemic corruption, continued outbreaks of the Ebola virus and the recent resurgence of the M23 anti-government insurgent group in the eastern part of the country continue to frustrate that incredible potential.
Central African Republic
Rich in gold, oil, uranium and diamonds, the Central African Republic is a very wealthy country inhabited by very poor people. However, after claiming the title of the poorest in the world for the best part of the decade, this nation of just 4.8 million is showing some signs of progress.
For the first time since its independence from France in 1960, in 2016 the Central African Republic has democratically elected a president: former mathematics professor and prime minister Faustin Archange Touadéra, who campaigned as a peacemaker who could bridge the divide between the Muslim minority and the Christian majority. Yet, while his successful election has been seen as an important step towards national reconstruction, large swaths of the country remain controlled by anti-government and militia groups. When, in 2020, Touadéra won a second term, rebel forces backed by the former dictator François Bozizé sought to retake control of the country.
Despite these problems and incidents, in recent years growth has somewhat picked up, driven by the timber industry and a revival of both agricultural and mining sectors. The economy is also benefitting from the partially resumed sale of diamonds, which were found to be funding inter-religious armed groups and placed under an international embargo in 2013. Yet, the government has struggled to restore sales and has seen only a fraction of the revenues it once did, and roughly 70% of the population still live below the poverty line. The war in Ukraine has only brought more pain: the World Food Program has already warned that due to the sharp increase in the price of staple products such as rice, wheat flour and vegetable oil the country is currently facing unprecedented levels of food insecurity.
South Sudan
South Sudan is the newest nation in the world. It was born on July 9, 2011, six years after the agreement that ended the conflict with Sudan, Africa's longest-running civil war. However, violence has continued to ravage this land-locked state of roughly 11 million. Formed by the 10 southern-most territories of Sudan and home to around 60 indigenous ethnic groups, a new conflict broke out in 2013 when president Salva Kiir accused his former deputy, rebel leader Riek Machar, of staging a coup. As a result, it is estimated that as many as 400,000 people were killed in clashes and nearly 4 million have been internally displaced or fled to neighboring countries.
South Sudan could be a very rich nation—it represents instead a textbook example of the resource curse paradigm, which exemplifies the paradox of nations whose resource abundance fosters, rather than progress, inequality, social and political divisions, corruption, lack of economic diversity. In the meantime, outside the oil sector, the majority of the population is employed in traditional agriculture, although violence—along with alternating droughts and floods— often prevents farmers from planting or harvesting crops.
Will the people of South Sudan ever have a real shot at living more prosperous lives? After signing a ceasefire and a power-sharing agreement in 2018, government and opposition parties formed a unity cabinet led by president Kiir and Machar as first vice president. The accord has proved fragile and largely ineffective when it comes to improving living standards and bringing a highly divided society together. Recently, the United States has also withdrawn from peace process monitoring systems in the country due to the failure to meet reform milestones, including drafting a permanent constitution.
Burundi
The small landlocked country of Burundi, scarred by Hutu-Tutsi ethnic conflict and civil war, has the rather unenviable distinction of topping the world's poverty ranking. With about 90% of its nearly 12 million citizens relying on subsistence agriculture (and the overwhelming majority of them living in extreme poverty) food scarcity is a major concern: the level of food insecurity is almost twice as high as the average for sub-Saharan African countries. Furthermore, access to water and sanitation remains very low, and less than 5% of the population has electricity. All these problems, needless to say, have only been exacerbated by the pandemic and the war in Ukraine.
How have things come to this, despite the civil war formally ending 15 years ago? Lack of infrastructure, endemic corruption, security concerns: the ingredients leading to extreme poverty are often the usual suspects. Pierre Nkurunziza, the charismatic former Hutu rebel turned president in 2005, had initially managed to unite the country behind him and to start rebuilding the economy. In 2015, however, the announcement that he would run for a third term—which according to the opposition was in violation of the constitution—reignited old disputes. A failed coup attempt followed, hundreds of people died in clashes and tens of thousands were displaced internally or abroad.
Nkurunziza died in the summer of 2020 at age 55—the official cause of death was cardiac arrest, although several local news outlets reported that is death was Covid-19-related. Evariste Ndayishimiye, an ex-general who was handpicked by Nkurunziza to succeed him at the end of his mandate, was sworn in days later. So far his record has been mixed. While, like his predecessor, he has initially downplayed the severity of the virus and reports of human rights violations continue to emerge from the country, he made an effort to relaunch the economy and repair diplomatic relationships with his African neighbors and especially the West. His efforts paid off: both the US and the European Union have recently lifted the financial sanctions put in place following the 2015's political crisis, and resumed aid to Burundi. Could this be a turning point for the poorest nation in the world? This data came from world poverty care in relation to united nations.
Content created and supplied by: Wycombe254 (via Opera News )
Opera News is a free to use platform and the views and opinions expressed herein are solely those of the author and do not represent, reflect or express the views of Opera News. Any/all written content and images displayed are provided by the blogger/author, appear herein as submitted by the blogger/author and are unedited by Opera News. Opera News does not consent to nor does it condone the posting of any content that violates the rights (including the copyrights) of any third party, nor content that may malign, inter alia, any religion, ethnic group, organization, gender, company, or individual. Opera News furthermore does not condone the use of our platform for the purposes encouraging/endorsing hate speech, violation of human rights and/or utterances of a defamatory nature. If the content contained herein violates any of your rights, including those of copyright, and/or violates any the above mentioned factors, you are requested to immediately notify us using via the following email address operanews-external(at)opera.com and/or report the article using the available reporting functionality built into our Platform See More