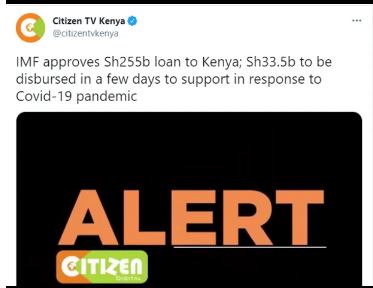 Kenyans took to social media today after learning that the government had just acquired a serious loan form the international monetary fund (IMF).
The purpose of the loan, according to the government, is to facilitate the smooth running of health facilities that have been overwhelmed by corona virus patients. The number of cases has been by the day and the government has taken strict measures to curb the spread especially in the five red counties that were locked last week.
Kenyans, however, smelled a rat in the government's tactics and asserted that the only reason why the government took such strict measures on the citizens was so that it could acquire the loan. Many claimed that they now expect the cases to start dropping b cause the main objective has been achieved.
What is your take on the government's acquisition of the loan? Let us know in the comments section.
Content created and supplied by: Cooper_senior (via Opera News )