Not everyone can afford to buy airtime everyday, everyone is in need to call and talk to their lovers, friends and relatives, safaricom has come up with an offer to help their customers from being lonely but not talking to their friends because of lack of credit.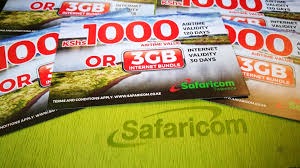 In this article, iam going to show you how to save your money, by not spending your money to buy airtime daily, just follow the procedure below to know how to get free airtime daily from safaricom;
Dial *456#, then select option 0,then select option 1, to enroll your line,next enter your national identity number(ID),here you are suppose to record you voice, you will repeat it three times,after the process you will be given free airtime. Or try the procedure below;
To enrol your voice you need to
-Dial *100#/*234#/*200#
-Select the Language of your choice [English |Kiswahili]
-Select option to enrol your voice
*Key in your National ID card number
(Repeat the phrase "At Safaricom my Voice is my password" OR "Safaricom sauti yangu ndio kitambulisho changu" three times).
As i said you may get the airtime free daily, what you should do is refer your friends and relatives everyday to get the airtime daily.
Thank me later.
Content created and supplied by: Brianchirchir (via Opera News )