Authorities are warning parents to be aware of what apps their children are using. However, out of these 21 apps, I'll elaborate few as you check on the table below.
PLENTY OF FISH
Plenty of fish is a popular free dating app and website that encourages chatting with strangers. It allows users to browse profiles based on location.
HILY
Hily is a dating app where users can browse photos, engage in chats, send private videos and more. Based on the GOS location of a mobile device. Strangers can arrange to meet up locally.
ZOOSK
ZOOSK is a location based dating app and website similar to many others. The app is available in 80 countries and utilizes a "carausel": feature which matches users with random strangers.
Best Secret Folder
Best Secret Folder is specifically meant to hide photos and videos according to app store description. It features password protection, decay videos alarm settings.
Microspace
It is a free social autoworking and dating app geared towards African, American and Latina Communities. Users can connect with strangers worldwide via text messanger or voice calls.
Monkey
It is a live video chat app that connects users to random strangers worldwide, affaring group chat and private message options. It claims to be rated for ages twelve and up but has mild SEXUAL CONTENT And AUDITY.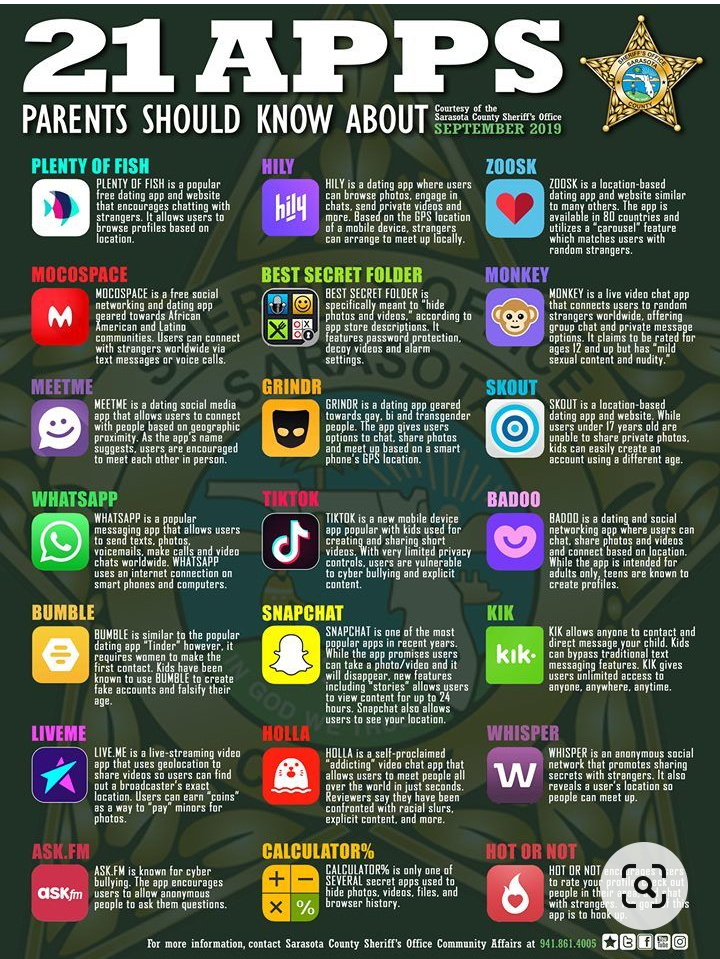 CALCULATOR
Calculator is only one of secret apps used to hide photos, files, videos and browse History.
SNAPCHAT
Is one of the most popular apps in recent years. While the app promises users can take a photo or a video, and it will disappear. New features including stories allows users to view contact for upto 24 hours. Snapchat also allow users to know your location.
ASK FM
Ask fm is known for cyber bullying. The app encourages users to allow anonymous people to ask them questions.
BADOO
Badoo is a dating and special networking app where users can chat, share photos and videos and contacts based on location. While this app is attended for adults, apply teens are known to create profiles.
The above mentioned apps among others, should be known and understood by every parent. Always attend to your child particularly, teens to avoid falling into trap.
Other suspected apps include;
Bumble, Nolla, Whispher, Not or Not, What'sapp, Liveme, MeetMe, TIKTOK, Best secret Folder, kik, Scout, Monkey and among others.
Check how they function in the table above. These apps are rarely found in many platforms because of their uniqueness. You can therefore download in play store to gain more experience.
Content created and supplied by: E.K.C (via Opera News )