Have you ever noticed that not all thumbs are the same for everyone?
Have you ever taken your time to think about our thumbs?
Well, make a thumbs up and look keenly at the thumb and relate whatever you see with what's in this article.
There are many myths involving our hands, thumbs and even the palm that try to explain the nature of a person or even predicting their future.
In this article, we are going to focus on the thumb by looking at five different types of thumbs named A to E as shown below.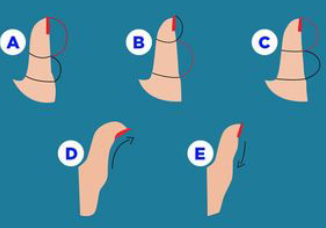 Below are the names of the five thumbs and what they say about a person.
Type A: Perfectionist
In life there are those people who always want their things done in perfection. When looking for a person to do the financial jobs well then you should look for the type A people.
Type B: Hardworking
In this type the lower phalange is bigger than the upper. This is usually found with people who are generally hardworking in nature and they always find themselves excelling in whatever department they are in.
Type C: Balanced
As the type suggests, the phalanges are balanced or equal in length. The type C of people are those that have everything balanced and are always admired by other from their character. From another angle this is not a good type as many people tend to take advantage of this group of individuals.
Type D: Flexible
Flexibility is the key word especially in the job market. These type are always flexible and can do any job for a living which means they adapt easily in most if not all fields.
Type E: Stubborn
If instead of curving, your thumb stands straight up then you must be the kind which dominate and always stubborn.
Even though this group are stubborn, they are the best to look for when finding a true friend or a worker who will stand firm with you in all your projects.
Content created and supplied by: @SmartReporter (via Opera News )