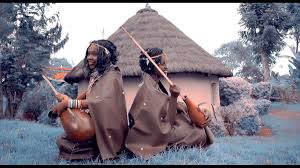 There is increasing and overwhelming evidence that the inhabitants of Egypt and near Middle East during the ancient civilization were Black Africans, and in particular Nilotic Peoples; in which KALENJIN and their distant cousins in Ethiopia, Sudan, Mali, Niger, and Burkina Faso, as well as those in East Africa (Maasai and Turkana) prominently feature. Anyway, in this very brief discourse, we shall only focus on setting out the chronicle by using a few words and NAMES:
Jarmo derived from 'charmoi', which is the action of piercing an artery on a live bull or cow to draw fresh blood for human consumption.
Susa, from 'suswa' (grass or place of plenty of grass).
Tepe Yahya, from 'teepe' (asking for) Yahya (Grace of God).
Jericho, pointed to a place of 'kericheek' (fragrance or herbal medicine). Compare with KERICHO.
Sumeria, derived from 'sumeek' (hair) and/or Sumer. The words imply place of long-haired ones and/or place of civilized long-haired kings.
Tuareg, is a 'tuuga' (cattle)-herding community of the larger Berber ethnic confederation in Mali, Niger, and Burkina Faso.
Timbuktu, in Tuareg language, is 'tim po tuuga' (bushes of livestock grazing). Compare with Timboroa, and Timbolil.
Pharaoh, derived from 'po Ra oo' (Hey, it belongs to Ra); it is the great house/family of servants of Ra.
Ka, derived from 'kaa' (home); Kaa is principal aspect/place of human soul or god.
Neter, derived from 'Ne Teer' (Different One); the Superhuman. Ne Teer refers to God, god, or spirit.
Asis – Sun.
Isis derived from 'kisiis' (quiet). It referred to the quiet goddess of the moon.
Horus – God of the sky. Son of Isis (Son of the Woman).The name comes from 'ooruus' (light-blue sky featuring clouds ranging from white to black). Compare with 'ooruusei' (of the white, grey, and dark colored bull).
Khasekhemwy – Commemorates Horus, the 'Son of the Woman'. It means "The powers of that important Woman have appeared Compare with Kapsakwony, and CHEPKWONY.
Hathor - God of women, and love. It also means 'Estate of Horus'. The name derives from 'Yaat Oor' (Open the Way to Blessings). Recall 'Keyaat Ooret', the event at the end of a series of traditional rituals and training that follow circumcision.
Thanks for reading this article.
Content created and supplied by: Ridhaa (via Opera News )