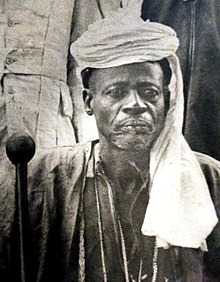 Nabongo Mumia was born a prince between 1849 and 1852. Nabongo Mumia was born into the abashitstes, one of the 22 clans that comprises the Wanga tribe. The abashitse is the clan that formed the royal lineage that produced the Nabongos.
His parents were Nabongo Shiundu Wamukoya and Wamanya.He grew up as an ordinary Wanga child participating in domestic animal herding, farming, hunting and gathering and his most notable achievement was killing a lion and leopard by the time he was 18 years old.
He lived longest of all the Wanga kings . Nabongo Mumia was the first Luhya to own a bicycle and a motor car.
Nabongo Mumia married multiple wives. Polygamy was largely practiced by the Wanga Kingdom to ensure stability with other communities through inter-marriage.
He became Paramount Chief and ruled the Wanga Kingdom for 67 years from 1882 to 1949 when he died, making it one of the longest reigns in African history.
He is regarded as the greatest ruler of the Wanga Kingdom for his management of the British colonial transition leading to British occupation in Kenya in the 20th century.
He led a kingdom that was famous for trade with Arabs in slaves at a time when the Wanga Kingdom was under extreme military pressure from the Luo-ugenya.
This slave trade between the Arab and the Wanga led to capturing of non-Wanga tribes into slavery such as Luo-ugenya and Bukusu who were also enemies of the Wanga kingdom because of their repeated insurgents against the kingdom.
Despite cognisance of his floundering influence and that of the Wanga Kingdom, Nabongo Mumia remained fiercely loyal to the colonial administration until his death.
When Mumia died in 1949, major high-ranking members of the colonial administration such as Philip Mitchell were in attendance.
Mumia's royal background caused a dilemma to the colonial officers. He was "retired" by the colonial authorities in 1926, but maintained influence until his death on April 24, 1949. He left behind multiple descendants including 109 sons, 60 daughters and 400 grandchildren.
Content created and supplied by: Tabaka (via Opera News )