Family disputes have often been witnessed among families who stay together. Many have often turned deadly as family members end up fighting each other to death.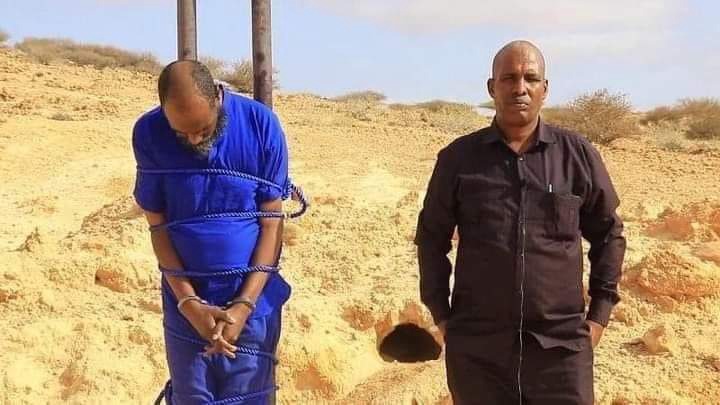 (Photo, Courtesy)
Farah A. Moh'ed (left) is convicted of murdering his mother and was sentenced to a death penalty in Garowe. Today his brother carried out the execution following family's unanimous approval.
The photo above of the man posing for a photo next to his brother before shooting him dead has surfaced online, sparking a series of mixed reactions.
Below were some of the reactions to the photo;
"Two wrong doesn't make a right... I think there are different types of punishment... They can arrest him for the rest of his life surely...this is wrong..." - Nyar Gi Felix
"Peace will be with the dying brother. Pain will forever haunt the living brother. And he poses for a photo just to add insult to injury. Sad!" - Murish Samuel
"Mercy! Mercy or lovingkindnes is something Christ Jesus died for. When we will all know that the devil in us is behind all these evil deeds, the we will spare Gods people. May God forgive us." - Raphael Kobilo
"And the familiar 2. That's like hurting yourself because you were hurt." - Edeh Sheddy
"Those who live by the sword die by the same sword. He deserves it. The photo no." - Flojo Kamesh
"That's the highest level of insanity..I cannot even ever dream doing that." - Joseph Nyambura
"Let he who is without sin cast the first stone/shot." - Elias Macharia
"The brother must be traumatized too. Its like you they are purnishing both. Soo sad slavery in the name of civilization." - Lianah Frank
"Murderers are given fair trial at public courts ... I mean Law court not some kangaroo family briefs or inuendos from some fellows." - Leken Ole
"Will that resurrect the mother? Am sure the one shooting his brother will be depressed beyond." - Vitalis Michael's
"So the game should continue because the brother also killed his brother ....." - Gatonga Anthony
"We should have this in Kenya. It will work best. We are wasting too much cash and time going back and fourth in our corrupt courts." - Emmanuel Ongaro
"These days water is thicker than blood, a son killed a mom nd brother killed a brother after the family approved it!! What a weird wide world!" - Magufuli
"Two wrongs cannot make a right." - Briggit Mbazira
"Naona wengine wakisema two wrong can make right... Mnajua kuua mzazi ni nini?" - Daniel Tugz
"And so? Do we not witnessed Kenyans burning alive their fellows with tyres and petrol for a hungry person who pickpocketed? Are you pretend saints now?We cherish with Sharia law. Very fair. An eye for eye. Guess what the executed man did? He killed his own maternal mother! Did he deserve to walk Scot free? Neey not even allowed to feed in jail!" - Ismael Fantastic
Do you think the decision to shoot the man dead for killing his mother was right and just? If it were you, what would you have done? Share your thoughts in the comment section below.
https://www.facebook.com/1498825140427003/posts/2466589393650568/
Content created and supplied by: RTCPress (via Opera News )