Popular Sacco Issues Notice To Members On Change Of Service Requirements
Savings and Credit Cooperative Societies, commonly known as Saccos provide members with a wide range of financial services to meet their needs. The needs range from savings, consumption to development loans. Saccos bridge the gap left by banks as members can borrow more at convenient interest rates.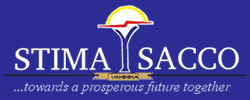 Stima Sacco is one of the pioneer Savings and Credit Cooperative Societies in Kenya. Logo courtesy
The Saccos play important role in socioeconomic development of members and communities in general through enabling easy access to financial services, encourage savings as well as creating employment opportunities. Saccos also support community development efforts like helping community access to social services through cooperate social responsibility.
The number of Saccos in the country keeps on growing as the demand for financial access increases. Some of the most popular Savings and Credit Cooperative Societies in Kenya are ; Stima Sacco, Harambee Sacco, Mwalimu Sacco, Hekima Sacco, Nyati Sacco, Mwito Sacco among others.
With the the current technology, most of these institutions have gone digital where applications of loans and other services can be done from the comfort of your home. Digital platforms offer easy and quick access to member services where one can receive a loan in few minutes through USSD and online platforms.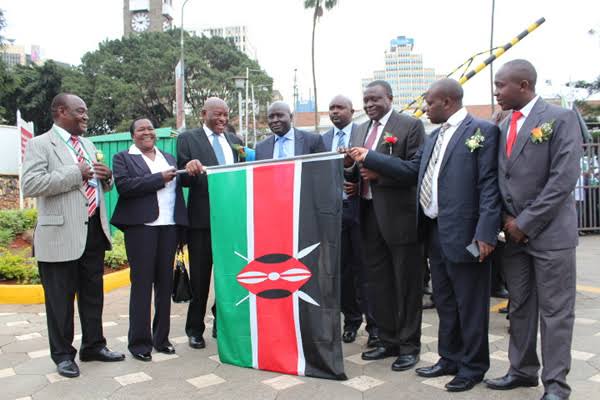 Official during Ushirika Day celebrations in Kenya. Photo courtesy
However, online processes have proved to be risky at some point where some members end up forging signatures of their colleague members in order to acquire loans. Since most of the loans acquire signatories in the name of guarantors, it has been noted by one of the Saccos that some of it's members are involved in this vice.
Nyati Sacco has issued a notice to thousands of its members countrywide on change of operations in loan application process. This measure is meant in to stop fraudulent means of securing loans. The communication was sent via text messages to the members.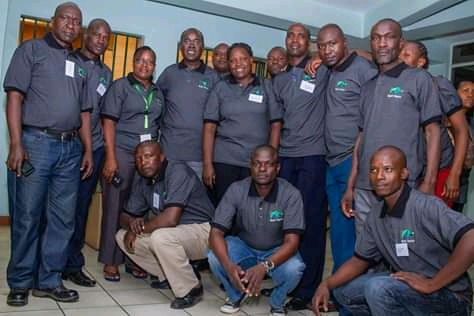 A section of Nyati Savings and Credit Cooperative Society members
"We have noted emerging cases of guarantor signature forgery as a result of receipt of softcopy documents. In order to curb this, starting 1st October 2020 only Hard copy documents will be allowed." read text message from Nyati Sacco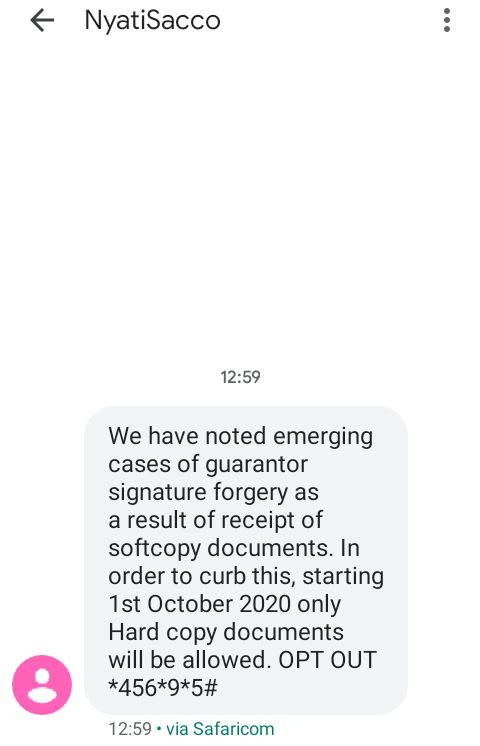 The Sacco has upgraded its system where members can apply for any loan through emailing scanned copies, a move that was much encouraged during this Covid-19 pandemic. The resolution means that beginning next month, those in need of loans will have to fill hard copies and take them in person to the Sacco headquarters in South B or send through friends, authorised representatives or courier services.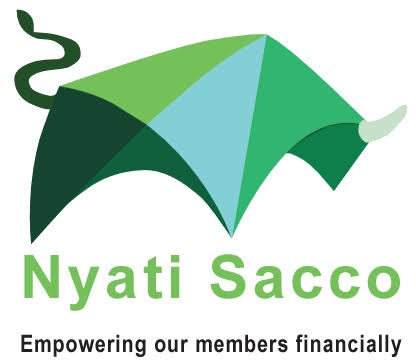 Nyati Savings and Credit Cooperative Society was registered in 1977 under the Cooperatives Societies Act by the then employees of Securicor Security Services (K) Limited (currently G4S Security Services). The financial institutions has since grown and recruits new members without limitations.
Some of the loans provided at Nyati Savings and Credit Cooperative Society include ;
Super loans
Normal loans
Midterm loans
Emergency loans
Cash advance
Asset finance loans
Content created and supplied by: Kabras_001 (via Opera News )