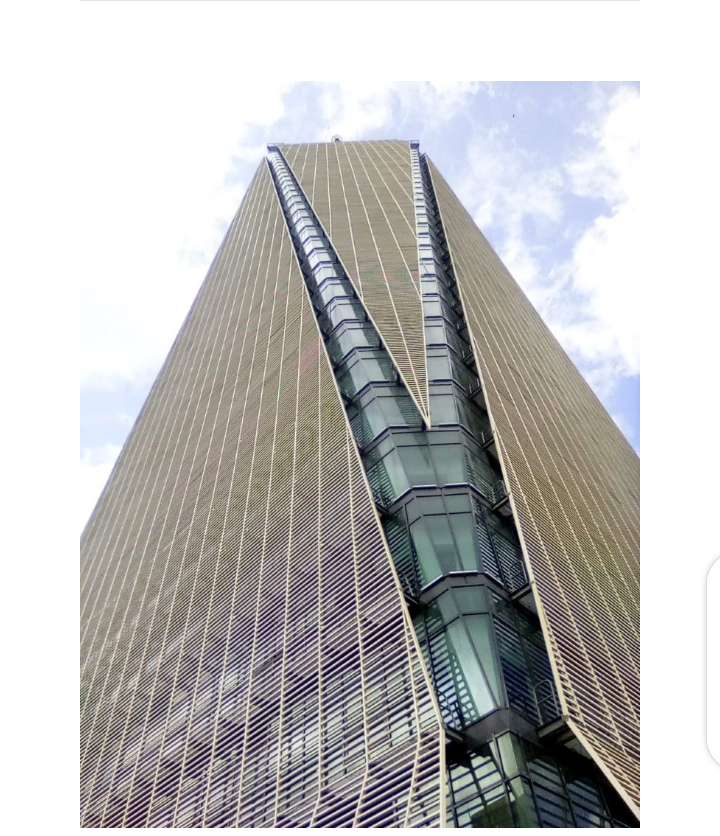 Britam tower along Hospital road in Upper hill.
Britam tower is a magnificent 200 metre skyscraper in Nairobi's Upper hill area,hosting the headquarters of the insurance company Britam holdings.The tower has 32 usable floors.
Construction of Britam tower started in 2013 and the tower was completed in 2017.The tower appears like a prism when viewed from some sides and tappers as it goes to the sky.Occupants of Britam tower have unbeatable views of Nairobi skyline.
The tower has a long spire at its top and is clad by double glazed aluminium facade which is further protected by terracotta strips all along the entire facade.
Additionally, the tower comes with a 12 storey parking silo that can accommodate up to 1000 vehicles.The parking structure is connected to Britam tower by a sky bridge.
In 2018,the owner of the building Britam began letting the building.The target clientele include diplomatic missions, multinational corporations and local corporations.
The tower is fully lit at night with LED lighting giving Upper hill a new night skyline that has never been experienced in the past years.Standing on the brow of Upper hill, Britam tower can be seen from any location in Nairobi and within Nairobi metropolitan area since its location is on a raised ground.
Content created and supplied by: WallaceDblue (via Opera News )