Blow to Miraa Farmers in Kenya as Somalia Market is Taken By Another Country, First Plane Lands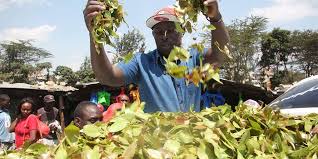 Kenyan miraa farmers could suffer a huge market blow for their produce after Somalia's market is was taken over by another country.
For years, Somalia has turned out to be one of the great importers of the Kenyan khat.
Kenyan has been exporting khat to Somalia until recently when things went south.
What started as COVID-19 containment measure by the Somalia government is slowly turning out to be a regional problem.
A few months ago, Somalia like Kenya, suspended foreign flight to curb the spread of the virus. The Horn of Africa country later lifted the ban on foreign flights but still did not allow miraa from Kenya to be imported.
At some point, a flight from Kenya loaded with tones of miraa was forced back after the Somalia government denied them entry.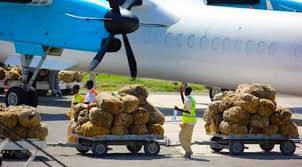 On Saturday, sources from Somalia said the country had started importing the same from Ethiopia.
Somalia based VOA reporter Harun Maruf reported that a plane carrying several tons of miraa landed in the capital of Mogadishu Airport on Saturday afternoon.
He also noted it was the first flight from Ethiopia to deliver miraa to Somalia.
"A National Airways PLC plane carrying several tons of khat from Ethiopia has arrived at Mogadishu airport on Saturday. This is the first flight from Ethiopia to deliver khat directly to Mogadishu, and it comes as Somalia refuses to allow Kenya khat flights to fly to Somalia," he noted.
As it stands, Kenyan plans are allowed in Somalia but those loaded with miraa are not allowed.
Content created and supplied by: pmeja (via Opera News )