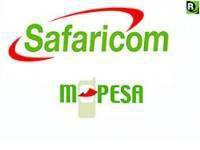 Loan refers to a micro-credit product offered by financial institutions or individuals which you will be required to pay back with an interest. M-PESA on the other hand is a mobile banking service that allows you to store and transfer money through your mobile device. M-PESA services include, but not limited to cash withdrawal, sending, depositing among other money transfer services. This article brings you good news regards to M-PESA and loans from different lending institutions, the reason your day will end while leaving a happy moods in you. Whether you're new to this or you have been a frequent user, you will be able to smile big today. You will be able to see how to access your financial services via two detailed ways and how to make withdrawals as described for you in this article. The details here include easiest methods which enable you to use your phone with Safaricom lines to borrow loans and make other payments for those banks and other lenders which allow you link direct to your M-PESA.
First Method for Loan Borrowing
This method makes everything beautiful for you, to access loans, borrow by connecting to every bank, Sacco or any other lending institutions in Kenya. For now, I will take you through one simpler way to conduct every business regards to your loan within the shortest time possible. Examples of the institutions this article touches include KCB Bank, Faulu Bank, Credit Bank, NCBA Bank, Stanbic Bank, Sidian Bank, Family Bank, Solution Sacco, DIB Bank among others. You normally visit the offices of banks and other lending institutions, but for today is different story for you as you'll be able to learn something regards to their respective methods to access their financial services. Bank codes come in as a fastest way to access your finances, but one thing you may have never known is where to get their respective loan codes. Don't ever worry again as this article brings everything at your doors today. Check and connect your phone with Safaricom sim card and you will be able to borrow your loans using the codes below. This includes Bank to M-PESA and M-PESA to bank in the case you want to repay your loans.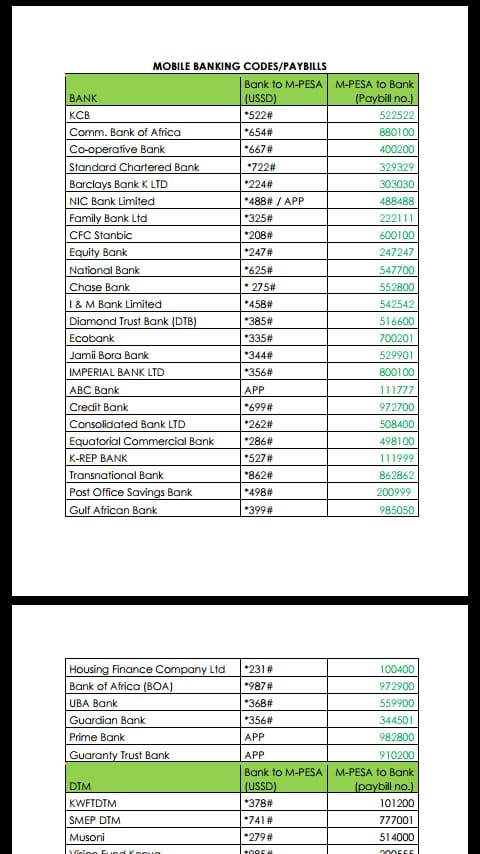 Second Method
This is another method to access financial services from your respective institutions, this is via the newly introduced feature by Safaricom. This article will therefore take you through all the necessary steps whereby you can easily use your phone to lenders as you can connect to those which are accessible via Safaricom line. This as well directs you to the financial service you intend you access. From there, you can use your mobile funds to request for loans you need as long as you meet their eligibilities. To mention a few, some of the banks and Saccos available through this service include, but not limited to KCB Bank, Kenya Post Office Savings Bank, Kenya Women Finance Trust, Musoni Kenya Limited, Mwalimu Sacco Society Ltd, Guardian Bank Limited, Gulf African bank, I and M Bank, Jamii Bora Bank,Sidian Bank, SMEP Microfinance Bank, Stima Sacco Society Limited, Transnational Bank, Diamond Trust Bank, DIB Bank Kenya Limited, Equitorial Commercial Bank, Equity Bank Limited, Family Bank Limited among others.
Procedures on how to go about accessing your loans connected with your Safaricom line
To access your loan services from your prefered bank or a sacco, you will have to follow the steps below. this will lead you into a list of all institutions provided. You will be able to connect with your M-Banking service which you have linked to your sim card. With the exception of Equity bank which uses its own Equitel line, this method shows you most of the lenders which you can easily link with your M-PESA for withdrawal of your money in a faster, easier and secure. This is possible with the newly introduced feature. see how to go about.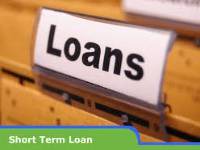 1, Now begin by dialing *334# as shown below.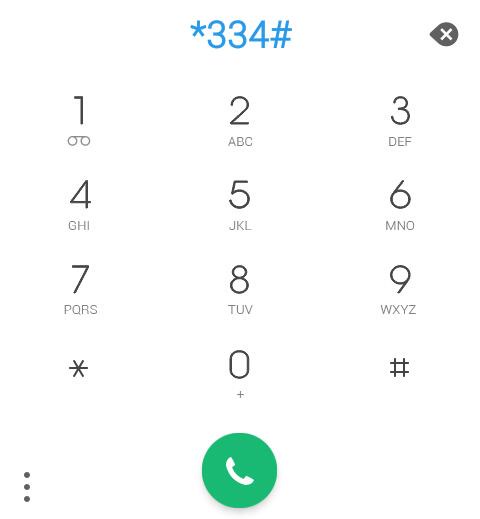 2, From here, you will be able to see a number of financial related features such as "Loans and Savings", and " Financial Service" options. With Loans and Savings option, it will lead you to two loan services; M-Shwari and KCB M-PESA. M-Shwari is a paperless banking service which offers micro-credit product as a merger between NCBA Bank with Safaricom M-PESA. KCB M-PESA on the other hand offers financial loan services from KCB Bank. To proceed with this, you can select Loan and Savings option and follow the prompts to borrow your loans. This method is an alternative way other than using M-PESA SIM Toolkit as you normally use to transact from and to M-PESA. Now, let's shift to the Financial Service option which leads you into accessing banks and Saccos. To proceed, select option 5 as seen below.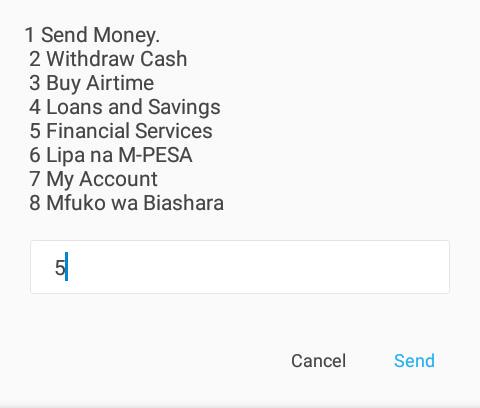 3, In the Financial Service option, you can see some features including M-Banking, Insurance and Wealth Management. To access your financial institution, go ahead and select option 1, which is M-Banking. This allow you proceed to the next step.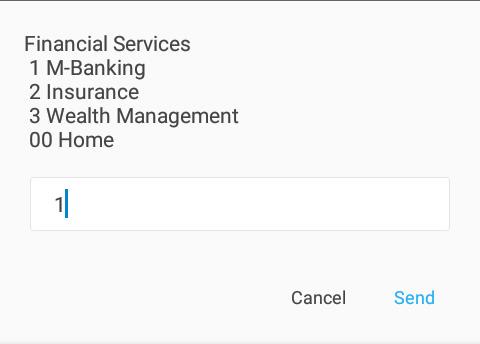 4, As you can see, banks and Saccos are listed in an alphabetical order form "A" to "Z" to enable you to ease the search of your respective lenders. However, for this case, we can pick option 5 to proceed by selecting one bank.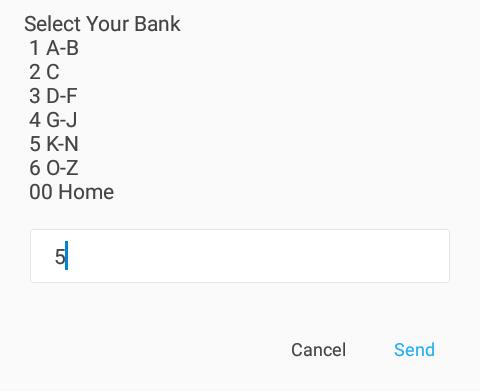 5, From our option 5, you can see that we have selected KCB Bank as an example. Proceed to see how it goes by selecting KENYA COMMERCIAL BANK as shown below.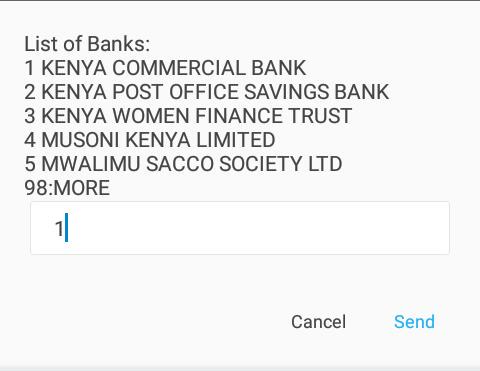 6, KCB Bank mobile banking service will the show you some loans related features. Additionally, with the loans you have qualified, this service also enables you to do transfer to your mobile number or to other numbers with no charges.You can as well use the feature to make withdrawals, access MobiGrow, and carry out payments services. Select loans to proceed.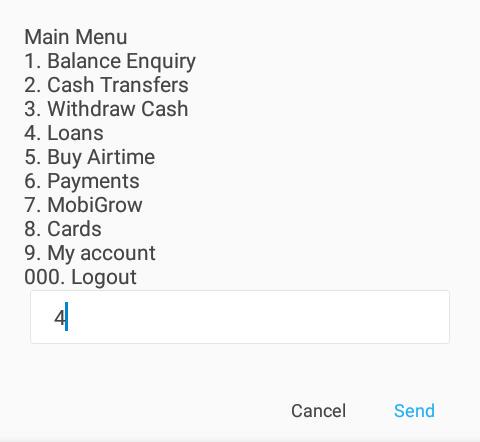 7, Finally, you can be able to see the loans services available here, all these can allow you use your M-Banking linked to your M-PESA to access loans.These include Mobiloan, Kopa Bills and Salary Advance. Select Mobiloan to proceed to the next step.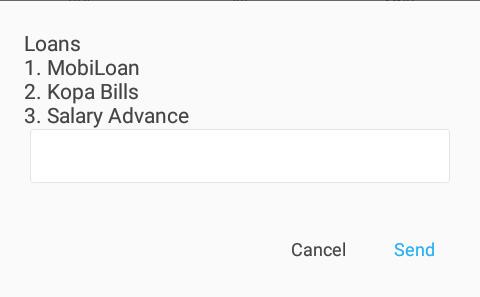 Ultimately, for those users who belong to other banks like Kenya women finance trust, musoni kenya limited, kenya post office savings bank, Mwalimu Sacco, you can select them here. The list is provide based on an alphabetical order and you will be able to access your bank simply using your Safaricom Sim Card.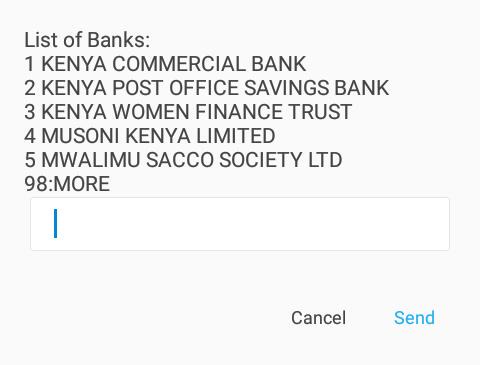 Other banks in this service include Guardian Bank Limited, Gulf African Bank, Housing Finance Limited, Jamii Bora and I and M bank are also accessible as seen below.
Sidian Bank, Standard Chartered Bank, Stima Sacco and others fee are also found, you can select as per your preference.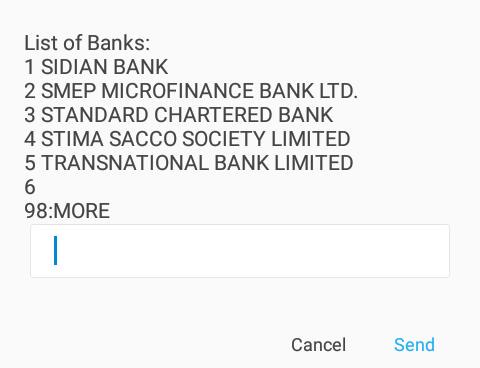 Finally, some other lenders available include Diamond Trust Bank, Family Bank also indicated.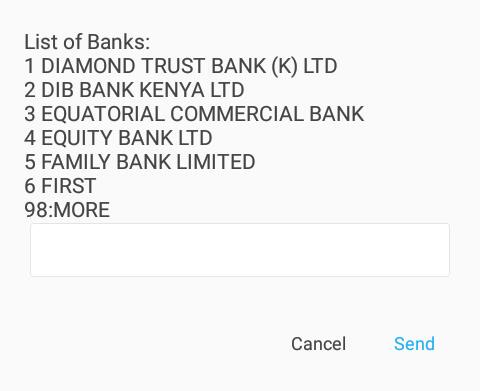 Funds Withdrawals also connected to phone M-PESA and ATM
Some of the bank here can connect you to go ahead to withdraw your funds just using your phone even if you don't have ATM Card. For the new users, you may have not known how to connect and access this via phone. Let's go through the simple steps below upon withdrawal with the ATM. If you don't wish to go for long queues, you may also resort to employ an alternative way even if you don't have your ATM card with. You can follow the steps below as long as you have your phone with you alongside your Safaricom line is connected with your M-Banking Service.
1, Visit the Withdraw Cash" option in your M-PESA menu
2, Select "From ATM' option
3, You have to enter the pay bill number of your respective bank like for Equity Bank is 286286.
4, Enter your M-PESA PIN
Once you've done with this, you will then receive message notification from M-PESA with a 6-digit authorization code (please note that the code expires after 4 minutes). This means that if you will delay, you have to initiate the transactions afresh to withdraw you money.
Now on ATM, select select the M-PESA on the bank you intend to use. While doing this make sure you select your preferred language, enter the authorization code as we earlier said. Secondly, enter your Safaricom Mobile Number and finally, enter enter the amount you wish to withdraw and ATM shall dispense your cash and then issue you a receipt for your transactions.
With all these details, you will be able to solve your financial issues as this article has provided you with good information regards to loans and other payment services. You can share this widely to your loved ones to enable them use these methods as well. Provide your view by commenting and follow for more good information regards to loan.
Content created and supplied by: SureAnalyst (via Opera News )