Spartak Moscow fans will want a repeat of their previous result, being the 1-2 Premier League triumph over Dynamo Moscow.
In that game, Spartak Moscow managed 53% possession and 13 shots at goal with 5 of them on target. At the other end, Dynamo Moskva had 11 shots on goal with 2 of them on target.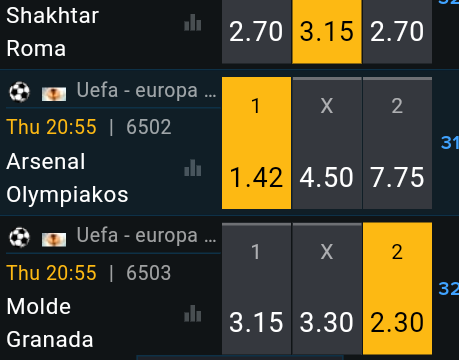 It's not been often in recent times that Spartak Moscow have kept a clean sheet. The facts show that Narodnaya komanda have seen their defence breached in 6 of their previous 6 matches, letting in 9 goals in the process. Nevertheless, we'll just have to find out if such a trend might continue on in this upcoming match or not.
Their past results show that Spartak Moscow haven't lost in the league to Ural in their previous 2 games and haven't won against Ural in their last 3 matches in the League.
Ural come into this game following a 1-0 Premier League win vs Rotor Volgograd in their previous game. In that game, Ural had 60% possession and 18 shots on goal with 7 on target. At the other end, Rotor Volgograd got 5 attempts at goal with 0 on target.
Yuri Matveyev's Ural have seen their goal attempts be successful 7 times in the course of their previous six matches. The aggregate of goals that have been scored against them during those same matches adds up to 10.
Their past results show that Ural remain undefeated by Spartak Moscow in games played away from home for the previous 2 league games, are unbeaten in their last 3 away league matches and are without an away win for the past 5 league games.
Head to head
An examination of their most recent head-to-head meetings stretching back to 15/04/2018 shows that Spartak Moscow have won 1 of these games & Ural 3, with the tally of drawn games being 2.
A combined sum of 14 goals were scored between the two sides during those clashes, with 6 from Narodnaya komanda and 8 being from Bumblebees. The last league contest between these sides was Premier League match day 14 on 07/11/2020 when it finished Ural 2-2 Spartak Moscow.
Team News: Spartak Moscow
There's just the lone fitness concern for the Spartak Moscow gaffer Domenico Tedesco to be concerned with thanks to an almost full-strength group. Victor Moses (Sideband strain in the knee) misses out. Pedro Rocha is ineligible for this match because of suspension.
Team News: Ural
Thanks to a fully injury-free squad ready to go, Ural manager Yuri Matveyev has no fitness concerns to report ahead of this clash.
Prediction
Spartak Moscow look set to score more than once when they line up against Ural, who could well struggle to get a goal of their own.
FC Krasnodar fans will want a repeat of their previous result, being a 0-4 Premier League success against Tambov. In that match, FC Krasnodar had 78% possession and 17 shots on goal with 8 of them on target. Tambov had 7 shots at goal with 3 on target.
Fixtures featuring FC Krasnodar have tended to be exciting affairs lately with high scoring expected. Over their past 6 clashes alone, the sum total of 22 goals have flown in for both teams combined (at an average of 3.67 goals per game) with 10 of those being chalked up by Byki. While that may be of interest, we must now wait to see if that pattern will be sustained here in this game. Their prior results show that FC Krasnodar have not registered a win against Dynamo Moscow in their last 4 matches in the league and are unbeaten in their last 5 league matches at home.
Following on from a losing effort in their last game against Spartak Moscow in Premier League action, 
Dynamo Moscow
 will be hoping to turn things around here.
In that match, Dynamo Moscow had 47% possession and 11 shots on goal with 2 of them on target. On the other side, Spartak Moskva had 13 attempts on goal with 5 of them on target.
In the course of their six latest matches, Sandro Schwarz's Dynamo Moscow have seen their efforts on goal rewarded 7 times.
Head to head
A look at their past head to head clashes stretching back to 10/03/2018 shows us that FC Krasnodar have won 1 of them and Dynamo Moscow 2, with the number of drawn matches being 3.
A total of 11 goals were shared by the two clubs in this period, with 5 from Byki and 6 belonging to Dinamiki.The previous league encounter featuring the two was Premier League match day 10 on 04/10/2020 when it ended Dynamo Moscow 2-0 FC Krasnodar.
Team News: FC Krasnodar
FC Krasnodar manager Murad Musayev does not have any fitness concerns to speak of ahead of this match owing to a completely healthy group to choose from.
Team News: Dynamo Moscow
Thanks to a completely injury-free group to choose from, Dynamo Moscow boss Sandro Schwarz has zero fitness concerns to speak of coming into this match.
Prediction
Dynamo Moscow will really need to work well to hit the back of the net against this FC Krasnodar team who I think will get the vital goal that wins it.
Content created and supplied by: [email protected] (via Opera News )