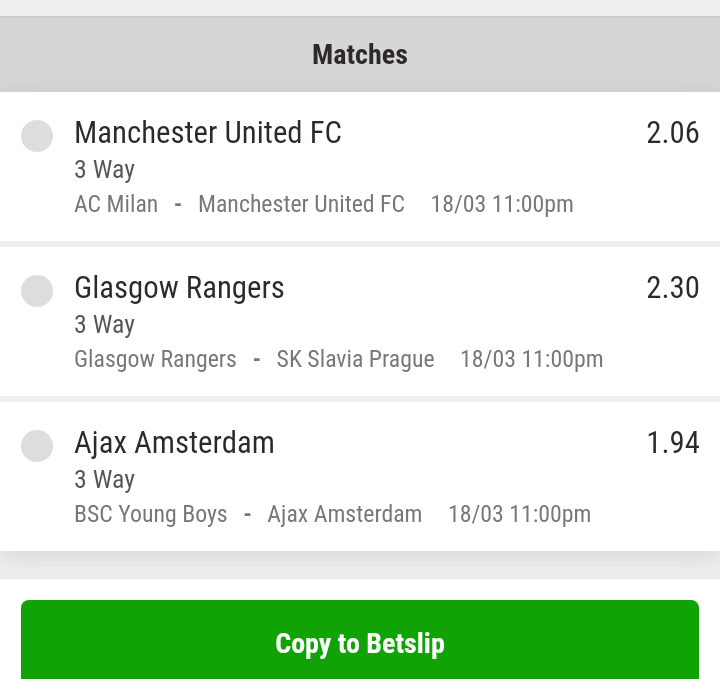 AC Millan Vs Manchester United.
Manchester United has won all the previous head to head meetings between the two teams.First leg ended in a 1-1 draw that AC Millan equalised at extra time.We predict a win for Manchester United.We expect United to put in more effort.United have been doing well this season in away ground matches compared to the home ground matches which is agood record of them.For our Predictions bet on Manchester United to win.
Rangers vs Slavia Prague.
Rangers were crowned winners of the Scottish premiership.We expect them now to fully focus in the Europa League competition.They managed to get a draw 1-1 in first leg which is advantage of them having away goal.Rangers have won all the matches previous 15 home game matches in all competition.Having that home ground advantage we predict them to win and proceed to quarter finals.For our Predictions bet on Rangers to win.
Young Boys vs Ajax.
Young boys has failed to get a win from it's previous 5 games in all competition which is a poor record of them.They were defeated in first leg by 3-0 by Ajax.Ajax is on good form having won all it's previous 5 matches.They have three goals in hand and we predict for another win from them.Bet on Ajax to win.
Content created and supplied by: Isaackoikoi (via Opera News )