1. Aston Villa vs Arsenal. The two have a difference of 1 point from each other in the table. Aston Villa is having 32 points while Arsenal have recorded 31 points. Arsenal are suffering from red cards issues which may be a major blow to their squad. They will concede goals, keeping in mind their key goalkeeper is on red card suspension. They will however, get into the score sheet.
Place a goal goal.
2. Levante vs Granada. The previous games between the two have in most cases ended as a goal goal. They usually pose a great challenge to each other. Today's game is also expected to end as a goal goal. Both teams will score and over 2.5 will also be seen.
Place a GG.
3. Freiburg vs Borussia Dortmund. Dortmund performance has dropped drastically in the last few matches. Their elimination from the top four is a clear indication of their drop in performance. They are now 6th with 32 points. They have been conceding goals in every game in the recent matches. They will still concede today. However, they will also score as they try to bounce back to winning ways.
Place a GG for a safe bet.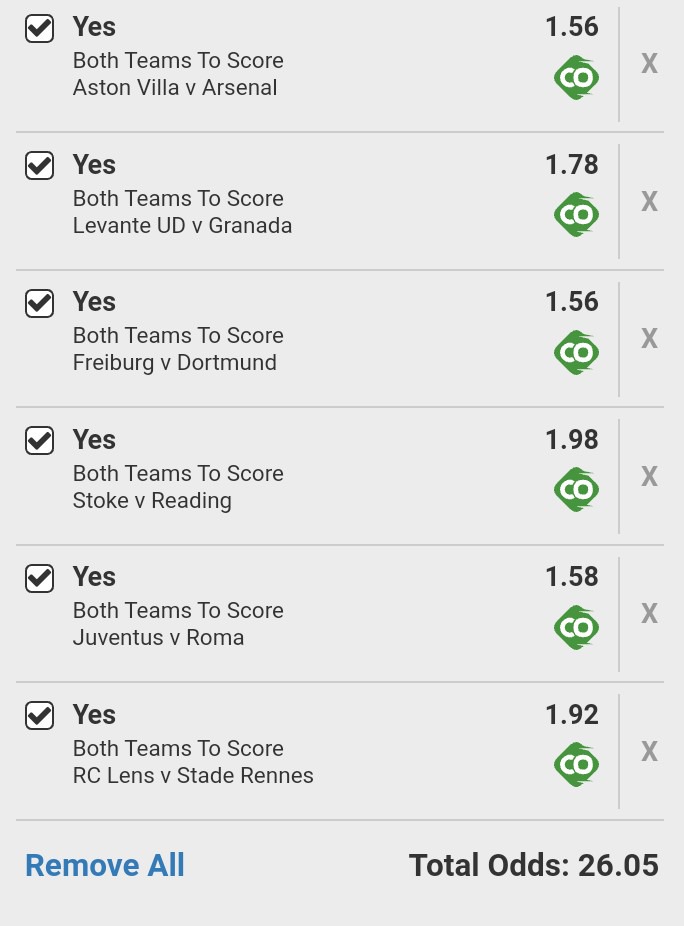 4. Stoke city vs Reading. This is another perfect game with a GG of high odds. Both teams will score and even over 2.5 goals will be seen. Stoke City has been a good team at scoring goals and will get in the score sheet in today's game. Reading have also been performing excellently and will also score.
We predict both teams to score.
5. Lens vs Rennes. Lens have greatly improved as they try to move up to the top four. They have been scoring goals in almost every game. Rennes have also been perfect and have been giving teams a hard time. They will also score.
Place a GG.
6. Juventus vs Roma. This is another game both of the teams will score. They have both been perfect and will find their opponents net.
Place a goal goal.
Please share with your friends and follow our account for more perfect goal goal predictions.
Content created and supplied by: Sports-Arena (via Opera News )